Frappe & ERPNext Implementation at Makkah
Makkah (aka Mecca) is one of the holiest and most visited place by muslims. It's a landmark for Frappe and ERPNext to get implemented there, handling a high volume of transactions.
---
Disclaimer: The initial section is inspired by my personal belief and observations. It need not be applied universally.
The Circles
One of the most enlightening moments of my life was understanding that atoms and the universe have the same architecture. The universe is made of atoms. The scale as big as the universe has the same architecture as the smallest one. You have a big mass right at the center, containing energy. And then, you have other lighter masses revolving around the central mass, in their own orbits.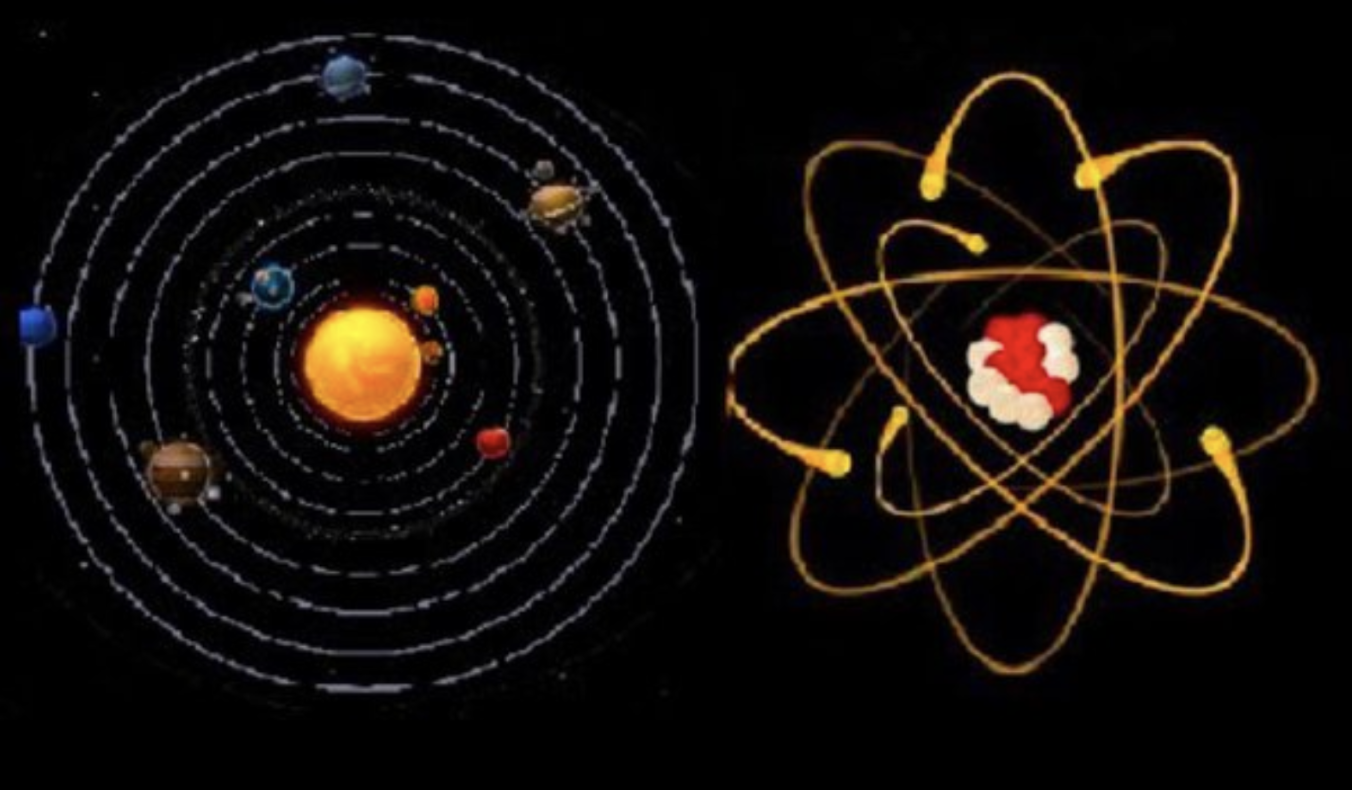 This feels like even atoms and planets rotating around in their orbit is some sort of breathing pattern. For nature observers, it's amusing, to say the least.
The cyclic nature is also observed in the essential elements like water and air, without which life cannot exist. The water cycle uses our own used water, pushed back into oceans to recycle and return it as rains. The carbon dioxide we exhale is consumed by trees, which return fresh oxygen to us. All these cycles, visible and inherent, ensure the sustenance of elements which is as crucial as life itself.
If you look at the spiritual and philosophical angle, living beings are composed of two broad elements. The particles, which lead to manifestation of a living body. Secondly, the soul/consciousness.
What could be the way to revive that energy which is so close to life, or life itself? The spiritual experts have written and spoken a ton about various prayers and meditation techniques, which indeed help an individual dive deeper into oneself, and course correct.
Circles in Makkah
Kaaba, located in Makkah( aka Mecca) is the holiest site for the Muslims towards which they pray. Pilgrims across the world flock to Makkah in millions. All the pilgrims have to make rounds of Kaaba to complete their Umrah and Hajj pilgrimage. This ritual is called Tawaf. For the believers, Tawaf is a source of spiritual revival, just like the physical manifestation is also revived over the period.
If you step back to see the broader picture of people encircling the holy site of the Kaaba, it resembles the deep-rooted phenomena we observe in the atoms, universes, and even in the milky way. It was fascinating for me as a believer.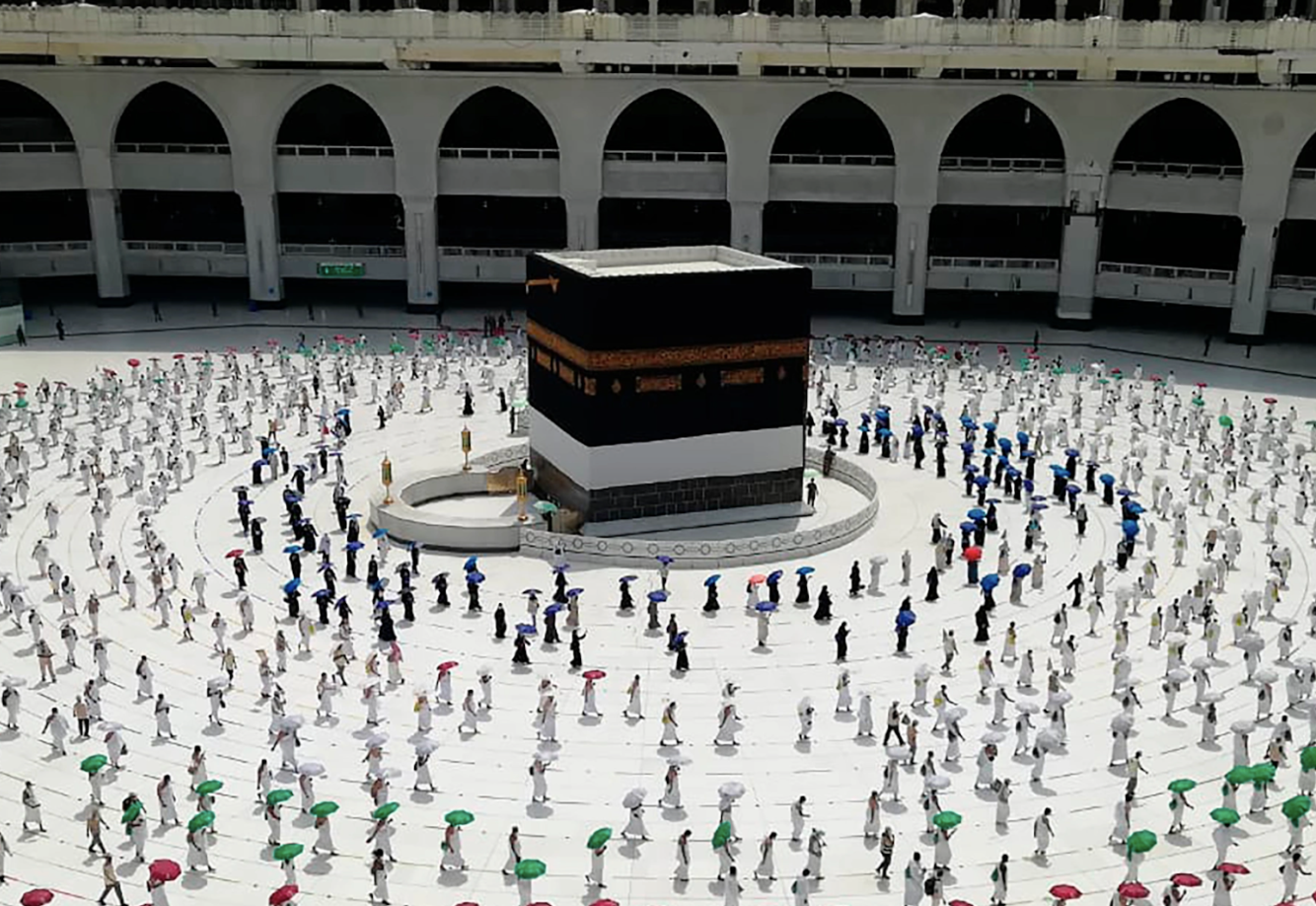 Ritual and ERPNext
Performing Tawaf requires every pilgrim to complete seven circles around Kaaba. A good number of these pilgrims are old or have an ailment that doesn't allow them to complete the rituals manually. Over the years, as no. of pilgrims has increased, the count of people needing assistance in making these circles has drastically increased. In the earlier days, the old people were carried in a palanquin. In modern days, a palanquin was replaced with wheelchairs. In each case, manual assistance was required. With the advent of electric carts, there was an alternative to help pilgrims complete the ritual independently.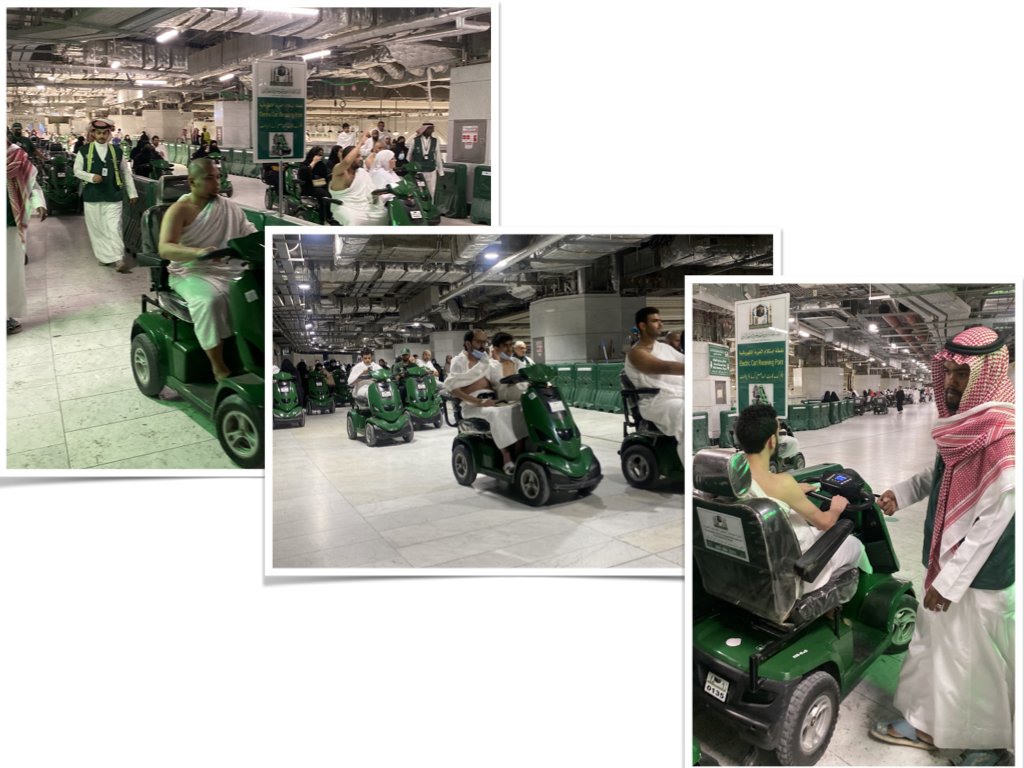 For the hajj ministry and authorities at the holy site, it was a clear need of the hour. They soon commissioned space for an e-cart on one of the floor. The service was initiated and was an instant success. Now, the priority quickly shifted from enabling to scaling it, with the automation and least possible human intervention. That's when and how ERPNext came into the picture.
There are quite a few backstories and characters that were the catalyst in opting ERPNext as a backend for this project. Let's learn more about it.
BaluBaid and Lavaloon
BaluBaid is a conglomerate with a group of companies in the automobile sector. The Makkah authorities trusted BaluBaid for the execution of e-carts. Luxury Carts (LC) is a subsidiary company of BaluBaid that specifically offers niche and luxury cars in KSA. LC was opted for driving the e-cart management at the grand mosque. They named the e-cart service as Tanaqol. From the very beginning, they needed to automate the operations like cart tracking (as an asset), customer registration, and cart booking. They also had a dedicated team, hence needed an HR module to manage their staff. This gave rise to need of an ERP solution.
While Tanaqol and their software requirements were getting shaped, Khaled from Egypt was upskilling himself on Frappe and ERPNext. Khaled comes with a colossal experience in software development and business app implementation like Oracle. For him, Frappe was love at first sight. So much so that he decided to bet the fate of his new venture, Lavaloon, completely on Frappe Framework. Khaled also had prior implementation experience in the automotive industry, hence was a perfect fit to drive the ERP implementation for Tanaqol.
Since e-cart as a service was in operation, LC team needed an ERP solution that could go live about two weeks, at least the billing module. Khaled proposed Oracle and ERPNext. On multiple matrices like cost, agility, and openness, ERPNext was a clear winner.
ERPNext Implementation Journey
The very beginning was a test of agility for ERPNext. The billing for e-cart service was surging like anything, hence accountants at the billing desk needed a reliable POS solution that could enable the customer billing, and ensure correct posting in the general ledger. ERPNext passed this test with shining numbers.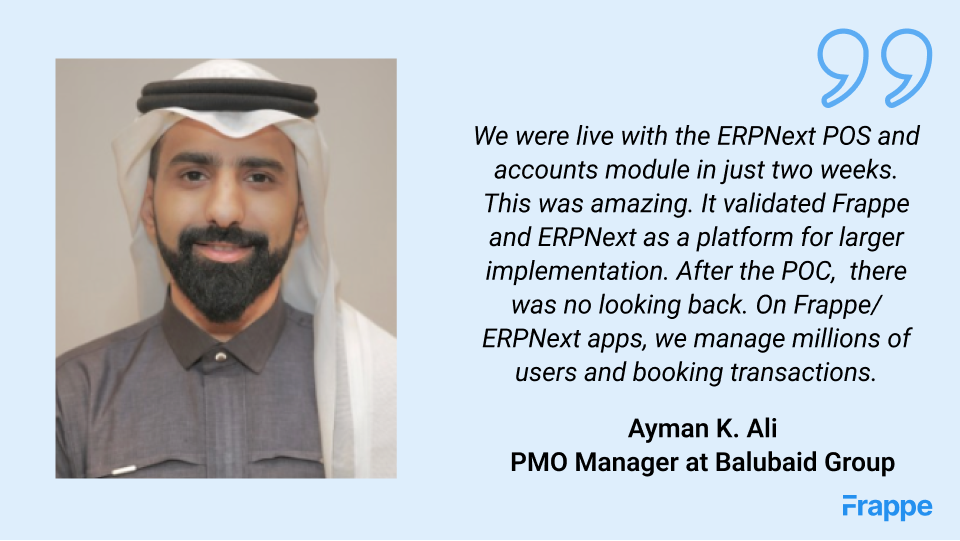 The larger use case started with a need for integration along with IoT devices installed on the electrical vehicles. All of that integrated into one solution reflected on the accounting entries. This ensures that each e-cart is tracked as an Asset in ERPNext. Also, using IoT devices on the cart, they were able to create logs for Vehicle Booking (coming through different channels), with check-in and check-out time.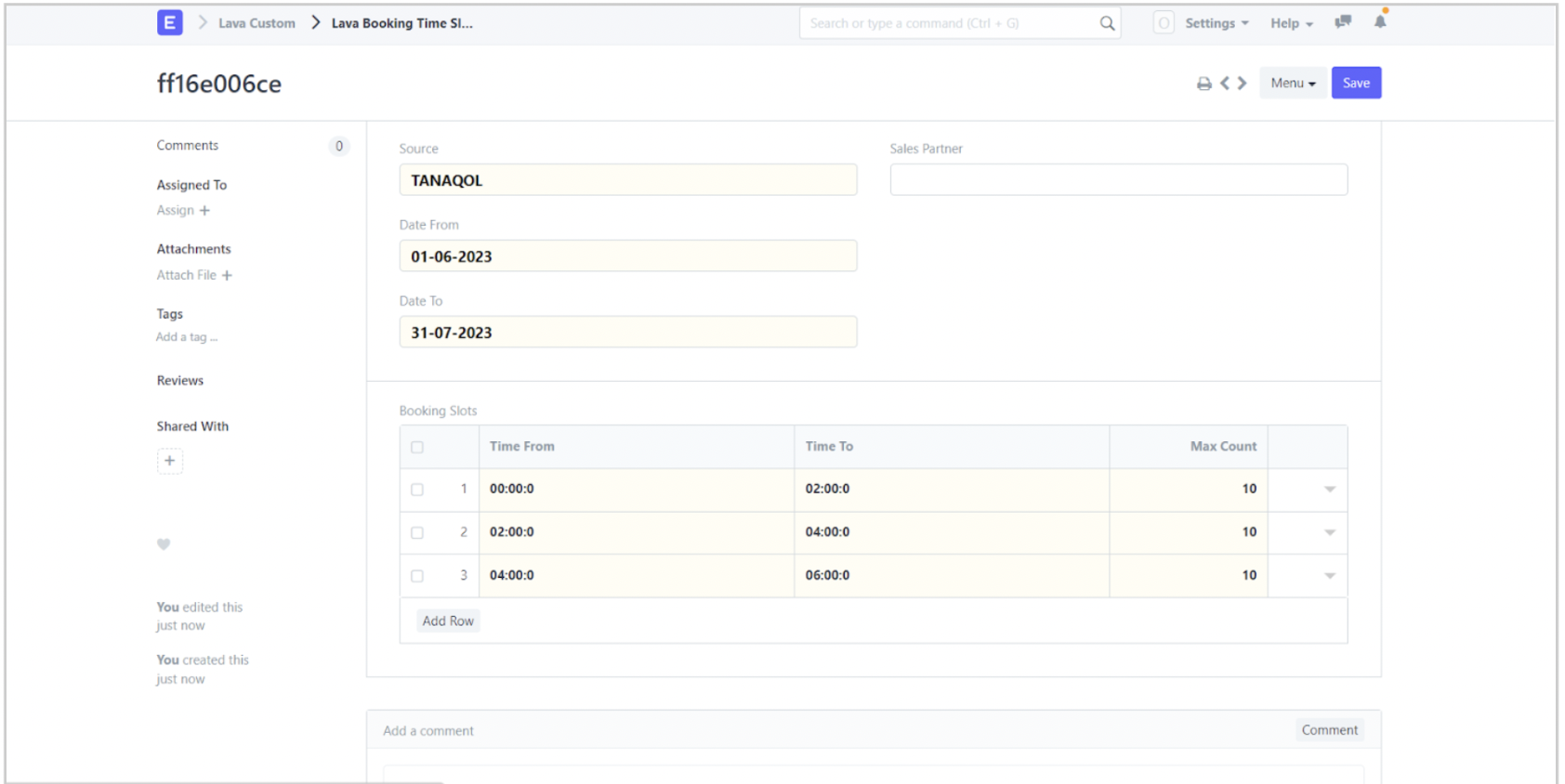 In addition, the Frappe/ERPNext APIs also allowed flexibility to users around the world to book the e-cart from the Tanaqol website or mobile app (Android and iOS), or through the custom POS app (image below) available at a kiosk at harmain.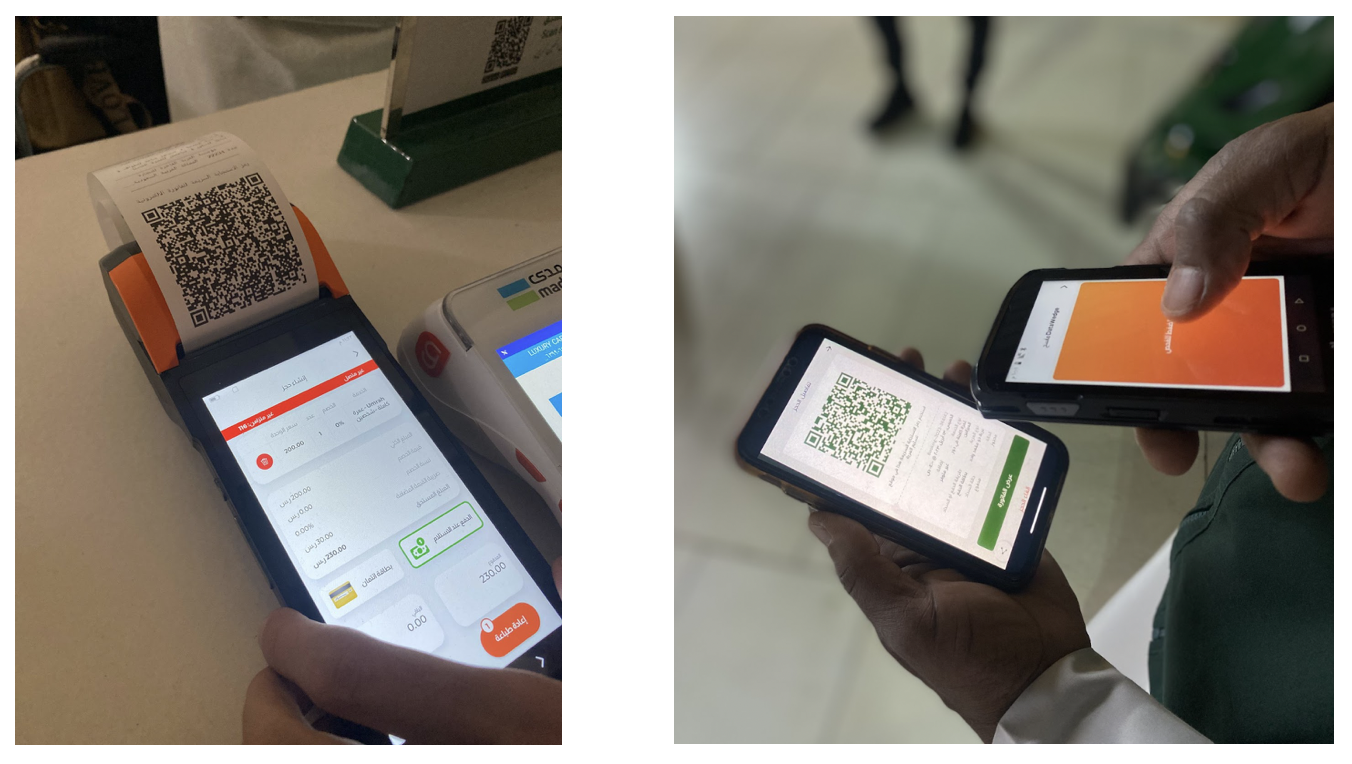 Website
In addition, the solution manages the electric vehicle as an Asset in ERPNext, along with its maintenance. As more modules and features were being added, they also developed the Tanaqol website on ERPNext. The website also provides booking of e-cart from anywhere in the world.

Human Resource Management
Apart from core vehicle services, the ERPNext HR module is also used to service the staff of Luxury Cart better. The HR module feature being used are:
Employee master
Attendance
Payroll and accounting
Leave and expense claim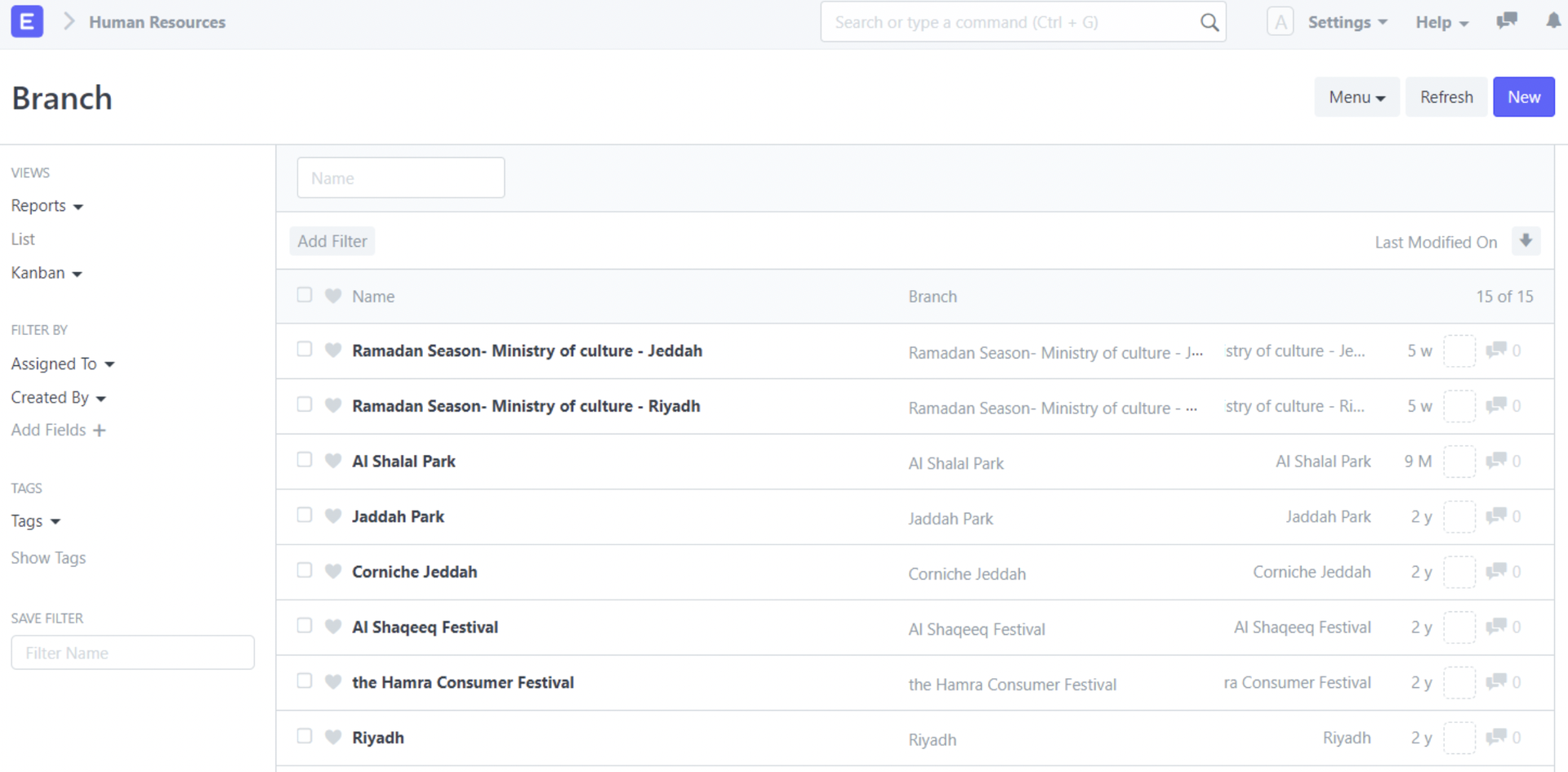 ---
Millions of Entries, and Future
Here is the testimony of scalability of Frappe / ERPNext from Khaled and Ayman.
ERPNext has already logged close to one million users entries (mostly customers), and about 10 million entries of vehicle booking, vehicle check-in, and check-out put together.
The day the announcement of Umrah visa services was made by the authorities, our website observed 400 new sign-ups per minute. Our custom front end and Frappe's backend were able to handle this scale just fine.
Open-source as a Game Changer
Khaled from Lavaloon was a catalyst and influencer in ensuring an open-source solution was adapted for this project. His reason for choosing ERPNext was deep-rooted and evolved over multiple years. Here is what we says about open-source journey.
I was working for the past 2 decades on projects in Egypt and the Gulf, utilizing solutions and technologies from different big vendors like Oracle and Microsoft, which taught me a lot in terms of technical and business aspects. Most of the projects were on-premises which required a dedicated team for a long time and high cost. Meanwhile, new players like ERPNext entered the game focusing on agility, shorter implementation time, lower cost, and deployable on the cloud. The big software vendors tried to follow this model, but I see that open-source is still more flexible and cost-effective. I specifically picked Frappe and ERPNext for their strategy and vision.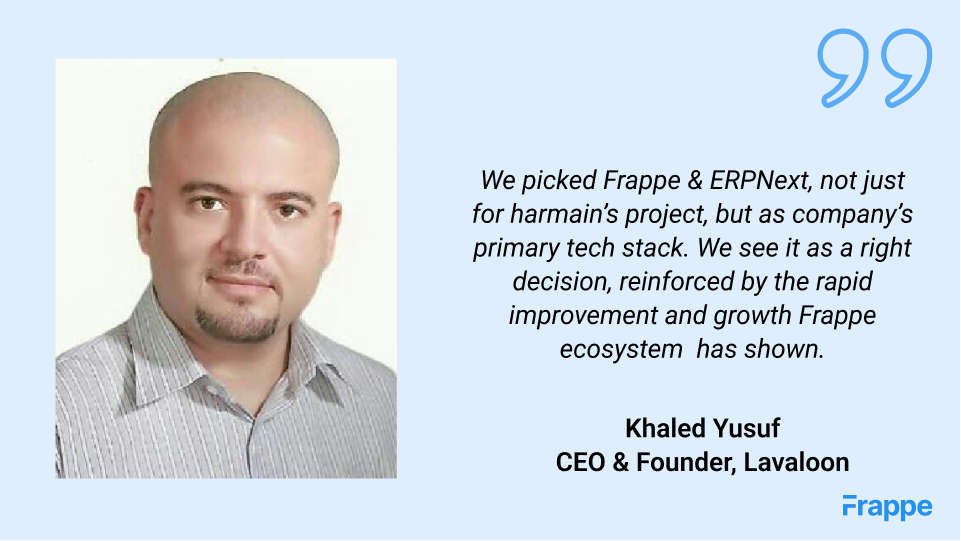 Conclusion
Over the years, Frappe apps has been embraced organically by the serveral organisations from all kinds of religions. This makes me wonder what brings this alignment? Free and Open Source tools are built around community and collaboration, so is religion. Both value collective progress over self-centric growth. Perhaps that's the factor driving this adoption. What do you think?
---
Take a free ERPNext trial for your business today!




Interested in becoming a Frappe certified partner? Learn more from here.
---

Umair is one of the co-founders of Frappe and VP - Partnerships. He has lead support in the early days and driven implementation cadence.