Progression from a Community Member to a Frappe Certified Consultant
I've known Frappe for a while, and it makes me incredibly happy to be certified. Here's a snapshot of how it went.
---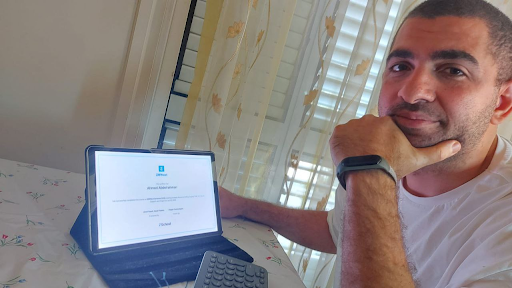 I was getting ready for work one morning and checked my social media, I noticed a post about becoming certified in ERPNext and Frappe. For a brief minute, I believed it to be a community project aimed at businesses or new users, but I was interested to learn more. It was a breeze to know it was an initiative from Frappe Technologies itself, the OEMs of ERPNext, and the Frappe Framework.
I've worked with the Frappe Framework as a developer and superuser for more than eight years now. When I tried to train clients to utilize ERPNExt, as well as my team members, I ran into a lot of obstacles. Not because ERPNext was difficult, but typically due to their unrealistic expectations. Also, I had a challenge in establishing I am a trainer since I didn't have a certificate of expertise myself.
The process of implementing ERP in a business is not simple. You encounter a lot of obstacles and issues that compel you to make difficult, occasionally disastrous decisions.
ERP Implementation Mistakes
Lack of understanding can lead to a variety of catastrophes. Here are some errors that consultants and even clients commit that endanger the success of the entire ERP implementation:
Over-whelming company departments during training sessions could result in project failure from the beginning.
Over-customization is a nightmare. It requires a lot of time and resources, which might result in project failure or loss of revenue.
Extreme dissatisfaction and negative publicity from the customer are the results of bad support.
Any ERP system's death knell comes from bad input data and transactions, and it's typically very difficult to recover or even switch to another system.
The very reason for sharing these challenges is that I was grappling with it for multiple years. It was great to see the coverage of the ERPNext certification course, which answered lots of these questions. It was one good factor for signing up for the next year.
Back to my Story
I was pleasantly surprised to learn that the Frappe team is conducting trainings! As a badge of achievement, certification will also be given out as well.
For me, the training was crucial for various reasons:
I'll discover how the main team member of Frappe maps use-cases with ERPNext.
Improve the way that my staff and the company's support crew are trained.
Learn about the additional features that have been added to the system's newer iterations.
Learn more about the gaps in the system and understand the missing parts.
Hello, you are Certified!
Though I knew ERPNext for a while, Certification was a bonus for me. It gave me a new perspective to look at the customer scenarios from fresh eyes, and then map it with ERPNext.
Having a certification can provide me the confidence to compel judgments in the favor of the project and demonstrate to my client that I know what I'm doing.
My employer puts greater faith in my judgment.
Makes me distinctive among my peers
When I invited my company to take part in the training, they enthusiastically agreed. As a result, I signed up for the training, got started reading the manual, and attended the incredibly useful frappe school's personalise but remote training lectures.
When the training began, I was really impressed with how it was structured. Each session was module-focused without losing sight of the ERP system's overall goals.
All of the modules were included in the program, which had complete situations and narratives:
Accounting and masters setups
Selling and procurement (buying)
HR and Payroll
CRM and Support
Projects
I felt more certain that I had chosen well after completing the program. The story was not over yet. A new Frappe Developer Certification Course began. I am super excited to go on this voyage and I hope to share the updates soon.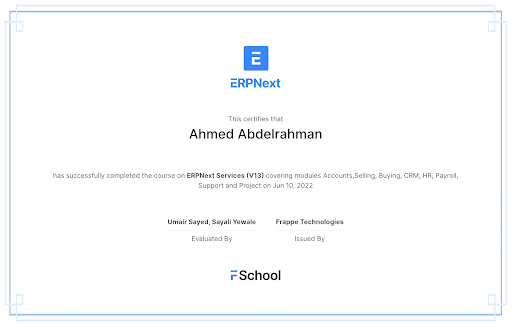 Here's the weblink of my certificate. Hooray!
I am a technical team lead in wsmco.sa, and I am already thinking about becoming a Frappe Partner to continue receiving training and developer Q&A.
Do explore the Frappe Certification Courses Here!
---