Multicolor Steels switched from SAP to ERPNext to power their growth
After using SAP for twelve years, Multicolor made a successful switch to ERPNext. Here's a sneak peek into their journey using ERPs.
---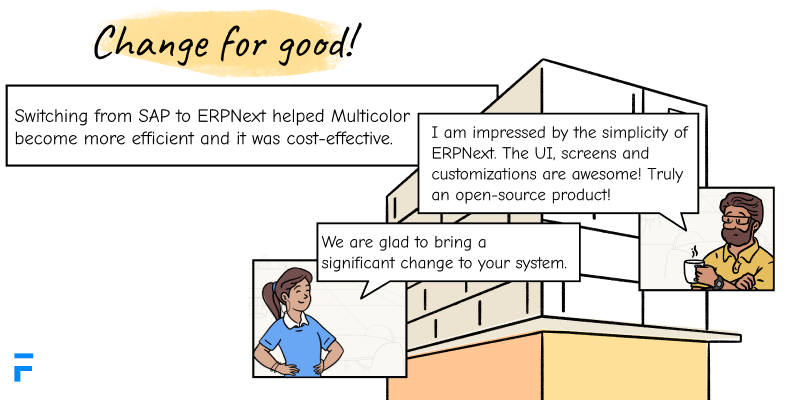 Introducing Multicolor Steels
Multicolor Steels is one of the leading manufacturers and suppliers of world-class pre-engineered buildings. They undertake turnkey projects for the design, manufacturing, supply, and erection of pre-engineered steel buildings, metal roofing & wall claddings, steel decking profiles, insulated sandwich panels, portable buildings, and structural fabrication. It was founded in 1993 by Mr. Rajesh Gupta to provide a complete steel building solution. Under his leadership, the company today has a rich experience of 30+ years with a brand repute in the market.
Multicolor is centrally located in Delhi, and its manufacturing unit is based out of Haryana. They operate PAN India and are registered in 16 states to execute construction projects. They have a strength of 1500 employees of which 500+ are direct employees and 1000+ are contract laborers.
Generation Next
Meet Dipane Gupta, the youngest Director of Multicolor Steels who is heading the operations. Dipane completed his higher studies in Pune and Mumbai and later joined his family business in Delhi. For him, leadership is about leading by example, with empathy, showing the right path, and guiding wherever required. Having said that he also admits that he is a bit short-tempered, and yet a lighthouse of a leader for his team.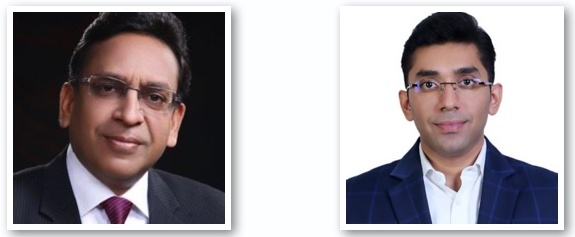 (Rajesh Gupta - Founder & Managing Director, Dipane Gupta - Director at Multicolor Steels)
His father has been his role model and Dipane learned the art of leadership from him. He started working as an intern under an Accountant to understand the workflow at Multicolor. For four years, he didn't have a seat for himself in the office and he is not paid to date. He jokingly mentions that since it's his family business. He got exposure to other departments, studied their processes, and worked up his way. Currently, he is taking care of operations, which includes projects, hiring, and business development.
The need for an ERP solution
A building has many different components which require tracking at various levels of operations. Since they are providing end-to-end solutions, they require a system that can take care of multiple operational activities, track and record the progress and integrate it with all business operations like Purchase, Sales, Accounts, Manufacturing, Projects, etc.
Years back his father came across an ERP solution that was quite fascinating. It was new to them because they were using old accounting systems to track and update. He took a bold step and went ahead with the ERP system and for twelve good years, they used SAP. But with growing times and changing systems, they felt that ERP needed an upgrade. The speed at which they require the system to adapt to new processes is their core expectation. The current system was unable to match up to their expectations and hence they felt the need to implement a new ERP system in their organization.
Discovering ERPNext
During the lockdown, Dipane got time to reflect on what his organization is up to and what all changes are required for the system. He got ample time to research and that is when he stumbled upon the ERPNext website. He also downloaded the other 2 ERPs just to check the sanctity of the system and he constantly ran trials for a couple of months to observe the system. It was a wild web search. He and his team took 3-4 months to experiment. And later involved the Frappe team.
Surviving the pandemic
Lockdown was slow for them. Since they are into the manufacturing of buildings, the construction work came to a standstill. However, they got permission from the government to build some special buildings. With that, they opened up their plant and were working at 50% capacity. Although their revenues were down, and businesses were impacted severely, they never laid off anybody.
Moving from SAP to ERPNext
With growing times and changing systems, there was a need for the ERP upgrade. Many changes were happening internally and with government policies which required frequent costly customization for adaptability. They were heavily dependent on the consultants.
One of the main reasons why Multicolor chose ERPNext was because of its open-source nature and simple customizations. They were smitten by the simplicity of the product. He believes that the open-source software invokes confidence in the small business owners as there is low cost involved.
With ERPNext they felt that initially there is not much investment, they can experiment and if it doesn't work, they can get back to the old software anytime. They ran both the ERPs, SAP, and ERPNext in parallel for 1 year on a trial basis. They thought that if one of them fails, the business flow should not be impacted. They took a risk and went ahead with the implementation process, which gave them confidence. They were able to save a lot of time and effort and their team was happy with it. Atul, Dipen, and Amit from Frappe consulting helped them whenever they needed. Faraz from Frappe sales was always a constant motivator.
With the legacy ERP, the user experience and the screens were difficult to process. And things like customizations had a hidden cost to them. Whereas with ERPNext, they could make minor changes by themselves because of the simplicity of the software and the UI. The consultants helped them with customizations, and the quick turnaround was highly appreciated.
For now, they are using modules like Purchase, Sales, Accounting, and Manufacturing. Their next step is to get into HR, Projects, and CRM and get completely integrated. In the future, they plan to get into the website module, which will help them reach out to their customer and suppliers.
"You cannot teach a fish to climb a tree"
So, I've been talking to many partners and customers, to understand what they like the most in ERPNext. Needless to say, customizations topped the list. It is everybody's favorite child and that gave me a topic for my next blog.
Similarly, for Dipane and the team, the one thing that caught their attention was the user-level customization. Some consultants asked them to change their business processes to match the frequency of ERP. Dipane felt sorry for them and quoted, "we are not here for ERP but ERP is here for us." He adds, "no software is perfect, it has its shortcomings and drawbacks but ERPNext has the capability to match and adapt to the growing needs and changes of the customers." The minor customizations that they can do by themselves and for major customizations the consultants are helping them in any way. This solves most of the problems. Especially with integrations and google sheets.
Wrapping it up
Amidst this interaction, I asked Dipane if there was a technical team involved while implementing ERPNext. To which he smilingly replied, "I am on the technical team and am directly involved in the implementation." :) There were other teammates also who helped him get through this process. He was involved while the SAP implementation was going on and he is equally involved in the ERPNext implementation.
It is good to know that ERPNext played an impactful role in streamlining the processes for Multicolor. We brought in the benefits of open source software and at the same time, we were efficient enablers for the team. After successfully implementing ERPNext at Multicolor, Dipane is confident this solution can help many other companies like his and sees an opportunity in becoming an ERPNext partner in the near future. He has also conducted a session for his industry connects introducing ERPNext.
It makes us proud to be associated with customers like Multicolor Steels and we hope to partner with them in their journey to run a great business in the long run.
---
Take a free ERPNext trial for your business today!




Interested in becoming a Frappe certified partner? Learn more from here.
---