How to Contribute Back to ERPNext
Ways in which you can contribute back to ERPNext eco-system.
---
In the ERPNext Conference 2017, ERPNext community graduated to a true open source community. If you are wondering the criteria to make your source code public, naah? It was the flame war within the community, and we had ample of them in this annual conference! Enough to rename ERPNext Conference as ERPNext Disrupt.

The thing we are flaming at, though agreed unanimously, was on enabling contributions from the community. So, here are the areas where you as a community member could make your contributions.
Contribute Code
The very philosophy of open source software, collaborating development of an application which benefits the community at large. If you are creating a feature for your customers, it's very likely other members in the community needs it to. Rather than keeping it to yourself, contribute it back to ERPNext (core). Never forget that 2% which you built was only possible because 98% was already contributed by others, something you enjoyed for free.
Moreover, contribution also makes sense in the commercial sense. It increases your credibility in the community and earns you lots of new business opportunities. Check the story of Anoop, from Earthians, on what made him contribute Healthcare domain in ERPNext, and how it helped them.
If you need little more motivation to get started, remember that ERPNext has GPL (General Public License) which requires publishing your extensions publicly under the same license. With the legal obligation, do also consider your moral obligation to make your first code contribution.
ERPNext Community Forum
The community forum of ERPNext, a savior for about 6000+ members who help each other on their ERPNext implementations. It includes assistance in functional and technical queries, announcements on what's cooking at Frappe Technologies and discussion on how to take things forward (Public Beta being the latest).
Any forum has two sides, asking and replying. Asking part has always been in full swing on the ERPNext forum. However, stats suggest that the replying-side has been largely fueled team Frappe. Very few from the community has stepped forward to take lead in this direction.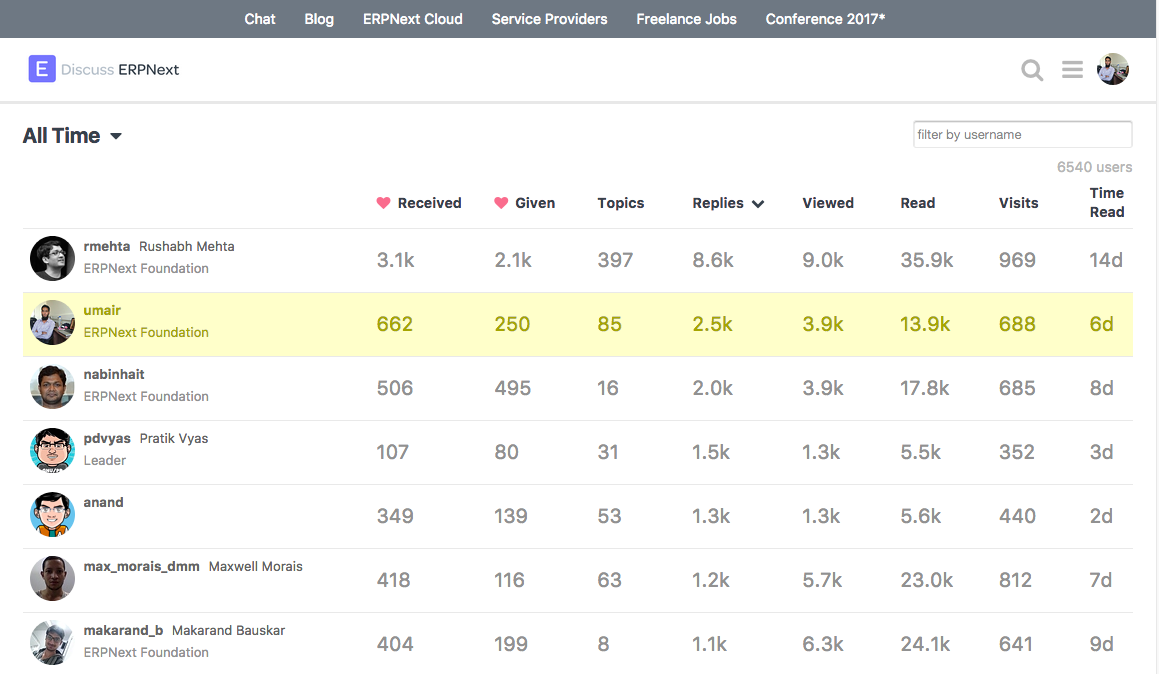 If you continue to avail support from the community, it is implicit that you also help others with your expertise and keep the momentum going for the overall community.
Community Meetups and Sprints
Open source project is all about collaborative development. Organizing local meetups and code sprints is one awesome medium to put your heads together and fast-track your contributions. If you think that local ERPNext community in your region is not large enough, remember that the first ERPNext meetup at Frappe office had only one attendee (yes!). However, the reason of meetup was enough for us to record and publish Frappe Video Tutorial, something which still helps newbies to educate themselves on how Frame Framework works.
Following are some of the important features which were added in the ERPNext thanks to meetups and code sprints.
Making ERPNext ready for GST India (MN Technique, Open eTechnologies, Frappe Team)
ERPNext Restaurant domain (Bangalore code sprint)
Employee Advance feature (ERPNext conference 2017)
ERPNext - Barcode Connector (ERPNext conference 2017)
Gradually, we see quite a few local chapters announcing conferences, meetup and code sprints.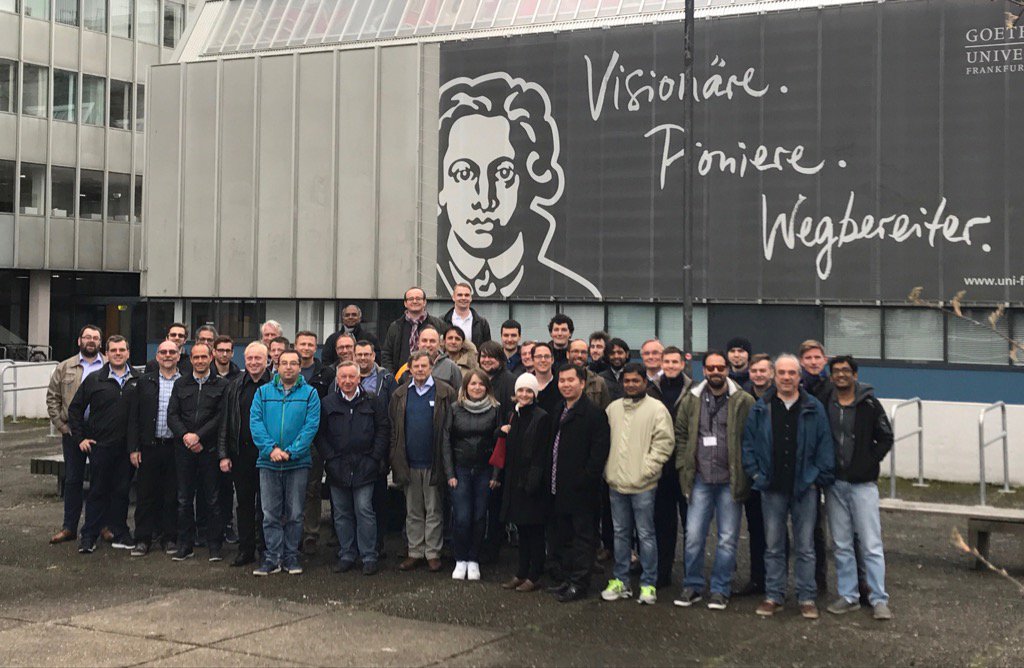 ERPNext Europe Conference 2017 (Germany)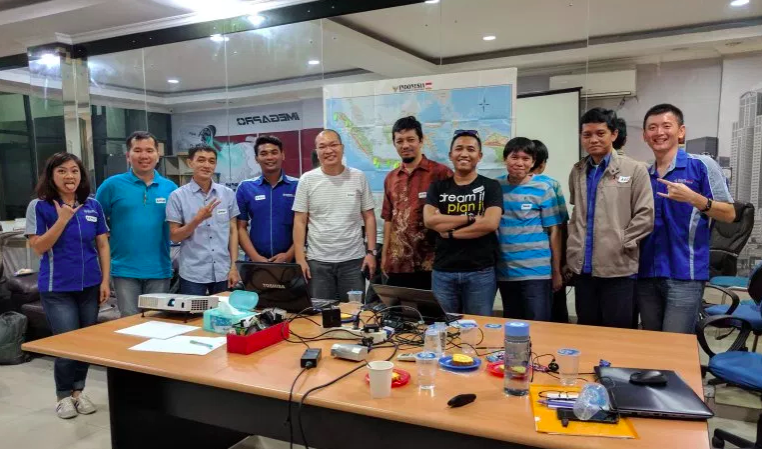 ERPNext Jakarta Meetup (Indonesia)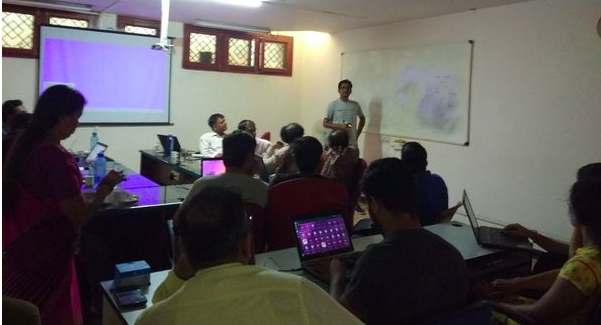 ERPNext Bangalore Code Sprint
Github
Github is where the source code for ERPNext and Frappe Framework resides. This is the great platform to get the projection for ERPNext within the Github community. One way you can contribute in by starring and getting more stars on ERPNext Github repository. More stars on Github will also increase the credibility of ERPNext as one true open source project and help others to enroll in.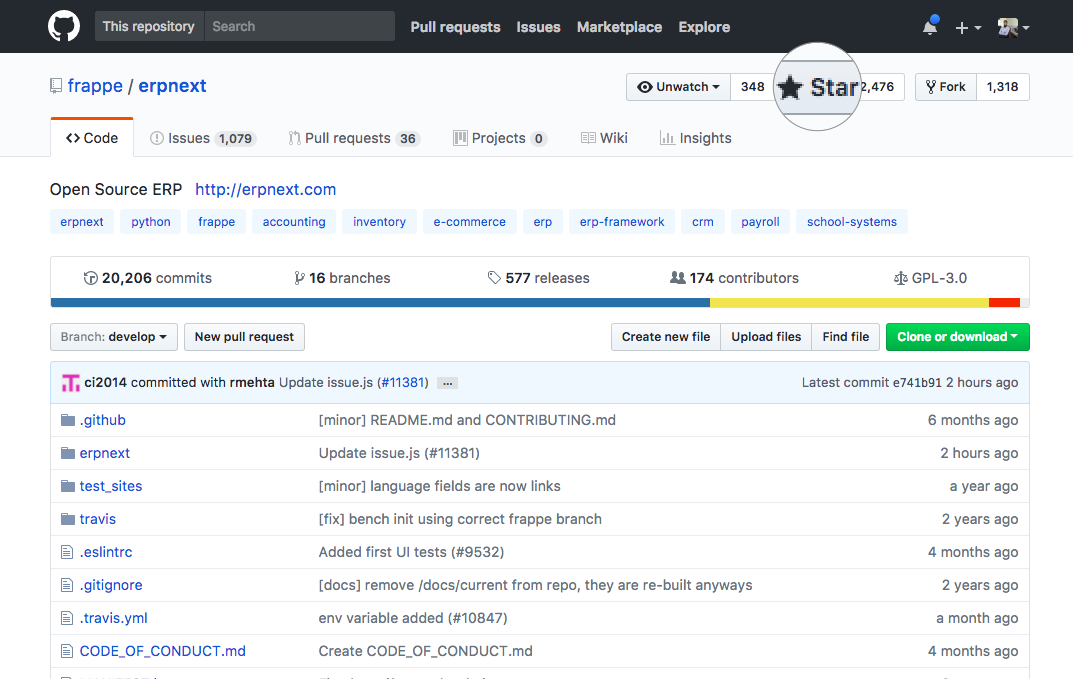 Marketing
Word of mouth does count but that's not enough. But the cards-on-the-table truth, if you are in the ERPNext eco-system, you ought to spread the word for your commercial interest anyways. With ERPNext foundation, we need to get lot organized in terms of marketing initiative, and that's where we expect you to chip in.
Most of the pragmatic users would use ERPNext only if there companies running their business on ERPNext. Hence, we need to get exposure for the current implementation. You can write an article about it or contact a tech journalist to do it for you.

Association of the big company as a user of ERPNext will certainly take us a long way in winning a faith of pragmatic users. How do we get these "big daddies" on-boarded to ERPNext, and get their stories to tech-journalist?

Given 2017, we presume that you are already a Facebook star and have account Twitter as well. Do write about ERPNext and Frappe Foundation on your social media handle so that it reaches your circle as well.

And thousands of other marketing ideas which keep popping up in your entrepreneurial brain. We need them all shared and executed in the interest of making open source software victorious.
ERPNext Foundation
ERPNext Foundation is a non-profit with the goal to provide a platform for the ERPNext Community to come together, join hands and build assets to help build and enhance ERPNext around the world. ERPNext Foundation aims to be a community-driven organization and run in a transparent manner.
The ERPNext foundation organizes weekly call of the foundation members to discuss how to take the project to the next level. If you wish to get actively involved in driving the ERPNext project, do consider signing up for the ERPNext Foundation membership now.
Road-ahead
The road-ahead for ERPNext pretty clear. It will be a monolith ERP application, a one piece of software for all your business needs. Thanks for the conference 2017 and open discussions, the expectations for the community members are pretty well-defined. That's CONTRIBUTION. And that's what will be the primary criteria henceforth in terms of defining line-of-speakers at the conference, opting chapter heads, module leaders, foundation fellowship and what you have.
Hence, if you are looking forward to the long-term, win-win relationship with us, do profile yourself around what you have contributed back. Keep flames within you :)
Update: FOSS United Foundation is now the successor of the ERPNext foundation and has the same broad goals.
---

Umair is one of the co-founders of Frappe and VP - Partnerships. He has lead support in the early days and driven implementation cadence.