GreyCube in partnership with Frappe for ERPNext and Frappe Cloud
Team GreyCube traveled to Mumbai to attend the annual ERPNext conference. Little did they know that their first PR will be rewarded with a bounty and hammer out a partnership deal with ERPNext.
---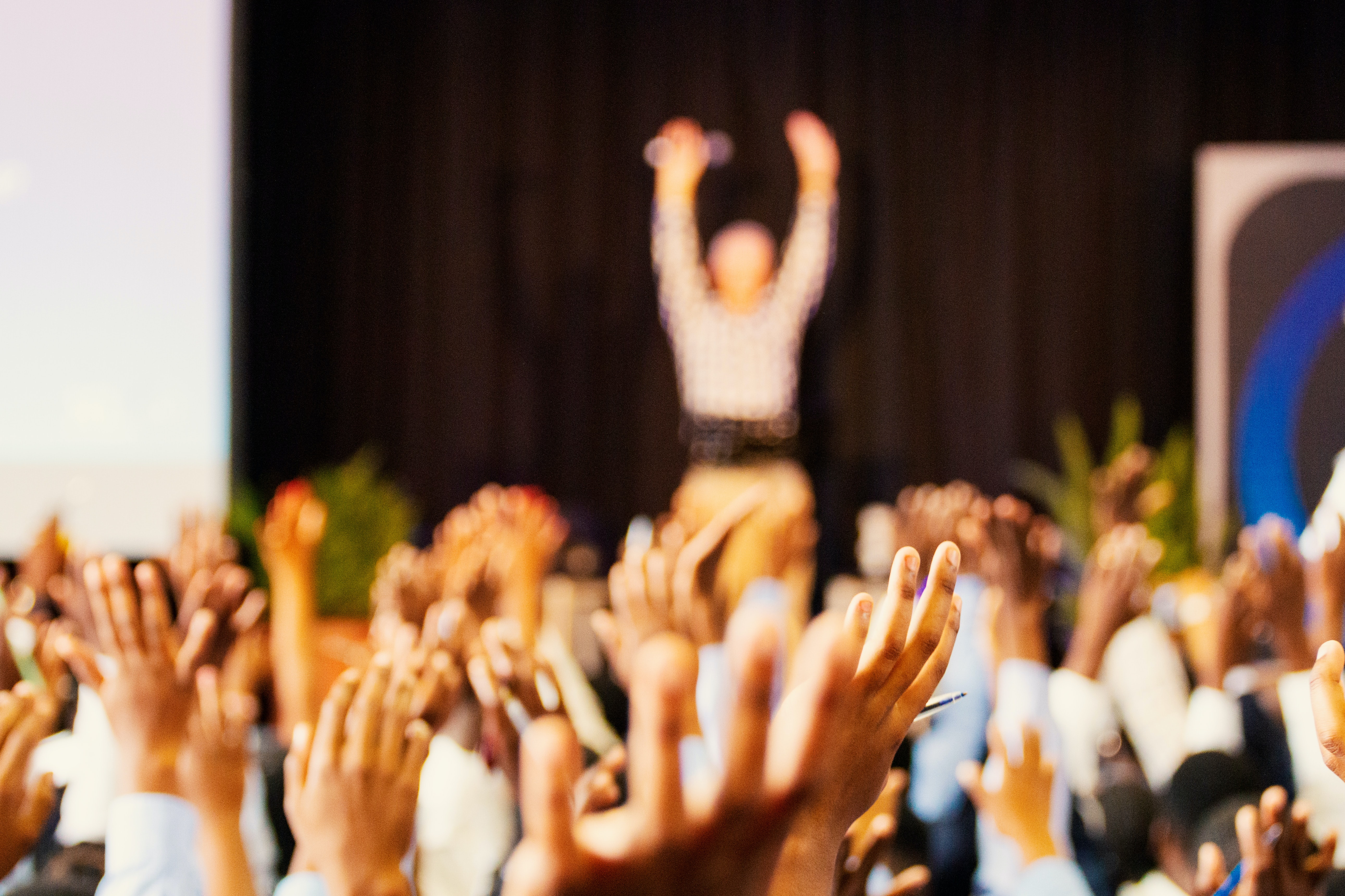 "ERPNext is a 'built once in a lifetime' product that is making a user's life easier, kudos to the team! Complexities of SAP and Oracle make us stare in the blank space." Team GreyCube goes on to narrate their experience on working with ERPNext and Frappe Cloud hosting."
Evolution of GreyCube
The longest and the first serving partner of ERPNext, GreyCube.in, is one of the oldest ERPNext providers since June 2017. They have been handling and hosting Frappe Cloud and providing ERPNext implementation & customization services, which allows them to help the customers with a complete package.
Before starting with Greycube, they were a homegrown ERP for 14 years. In the due course, they helped an NGO using ERP. It was only after they started Greycube, they realized how painful it is to build, maintain a framework. The team felt the need to start from scratch because their ERP was not scalable. For quite some time they explored options, Odoo was one of them and since it's not a 100% open source solution, they took a back seat and continued their search. Vijay, a friend to the founders at GreyCube, found ERPNext on Google search; being a fully open-source software product impressed them.
The team experimented with the functional parts. With version 9, they found ERPNext to be consistent with easy onboarding. Today, with a team of eight they have successfully managed more than a hundred implementations and customizations. Scale up all their custom apps are available on Github at Ashish - Greycube
Partnership with Frappe
In the year 2017, Frappe hosted the annual ERPNext conference, invited developers from all over India, and announced a partner program. The GreyCube team enrolled their names for the annual ERPNext conference and traveled to Mumbai from Ahmedabad. The ERPNext Foundation came up with a bounty system for this conference. James Turner from South Africa wanted to bypass credit limit checks for sales orders for his business and set up a bounty for it.
Bounty was required to follow the below-mentioned guidelines and the process went through multiple iterations.
Make business logic clear with bounty backer
Come up with a solution and float it on the forum to get suggestions
Code it and raise a pull request (PR)
Code review would be conducted @nabinhait & @tundebabzy
The code should have extensive test cases
The code should be well documented with animated gifs to explain the feature
A final PR goes in the development branch and from there to the master branch
If all goes well, the bounty gets awarded!
GreyCube delivered the bounty and it was a historic moment for the team. Their contribution to the feature earned them $500. They got a chance to explore the community from the ERPNext Discuss forum, and after having detailed discussions with other ERPNext community & frappe team members, they realized that they were heading in the right direction.
Why Frappe Cloud?
GreyCube believes that Frappe Cloud has been providing amazing service, to have the site up and running in less than 5 minutes is considerably good. It is super easy and promising to convert potential clients. Frappe Cloud is a good option for clients that don't have an internal IT/ DevOps team. Most other web frameworks already have an option from a hosting provider to get a ready environment, whereas setting up ERPNext is a herculean task even for developers. So basically, no client can think of getting a Virtual Private Server (VPS) and setting up ERPNext.
They are thankful to the FC team for visualizing this product and making it a reality. Let us know the team working behind Frappe Cloud. Aditya believes the software is supposed to liberate people and joining Frappe, an open-source software company, gives him a platform to showcase his skills. He, on the contrary, finds Python to be a horrible language and is keenly working on bringing Frappe hosting to the 21st century. He is a chess player and a sarcastic comedian. Faris has developed an affinity towards UI/UX and likes all things web. Building games interests him.
Since the team responsible for developing and managing the product is the same, it gives greater credibility to the clients hosted on Frappe Cloud.
Pros and Cons of Frappe Cloud
One can manage all the FC-related stuff from a mobile browser, therefore they can roam freely across the world while the sites are taken care of by Frappe Cloud. The FC dashboard has superb analytics and gives good transparency on usage to (persona). GreyCube says that the private bench has given a good boost to custom app deployment because it is smooth to create, reset, drop, and even change the domain of the site. The UI is designed well, availability of backups and SSL is helpful. Billing is precise and transparent. Upgrading, Downgrading, and deactivating the plan is just a click away.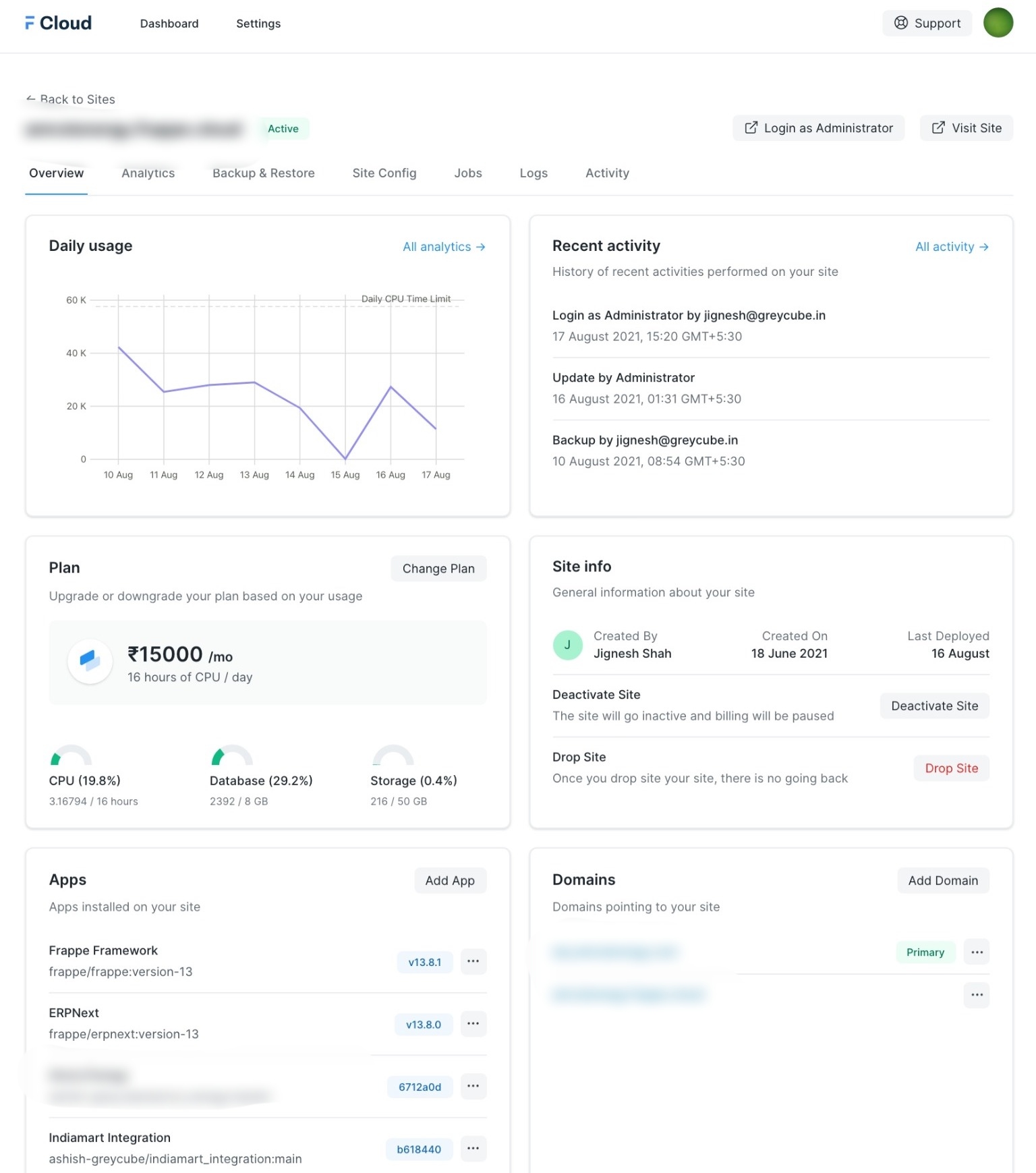 (Overview)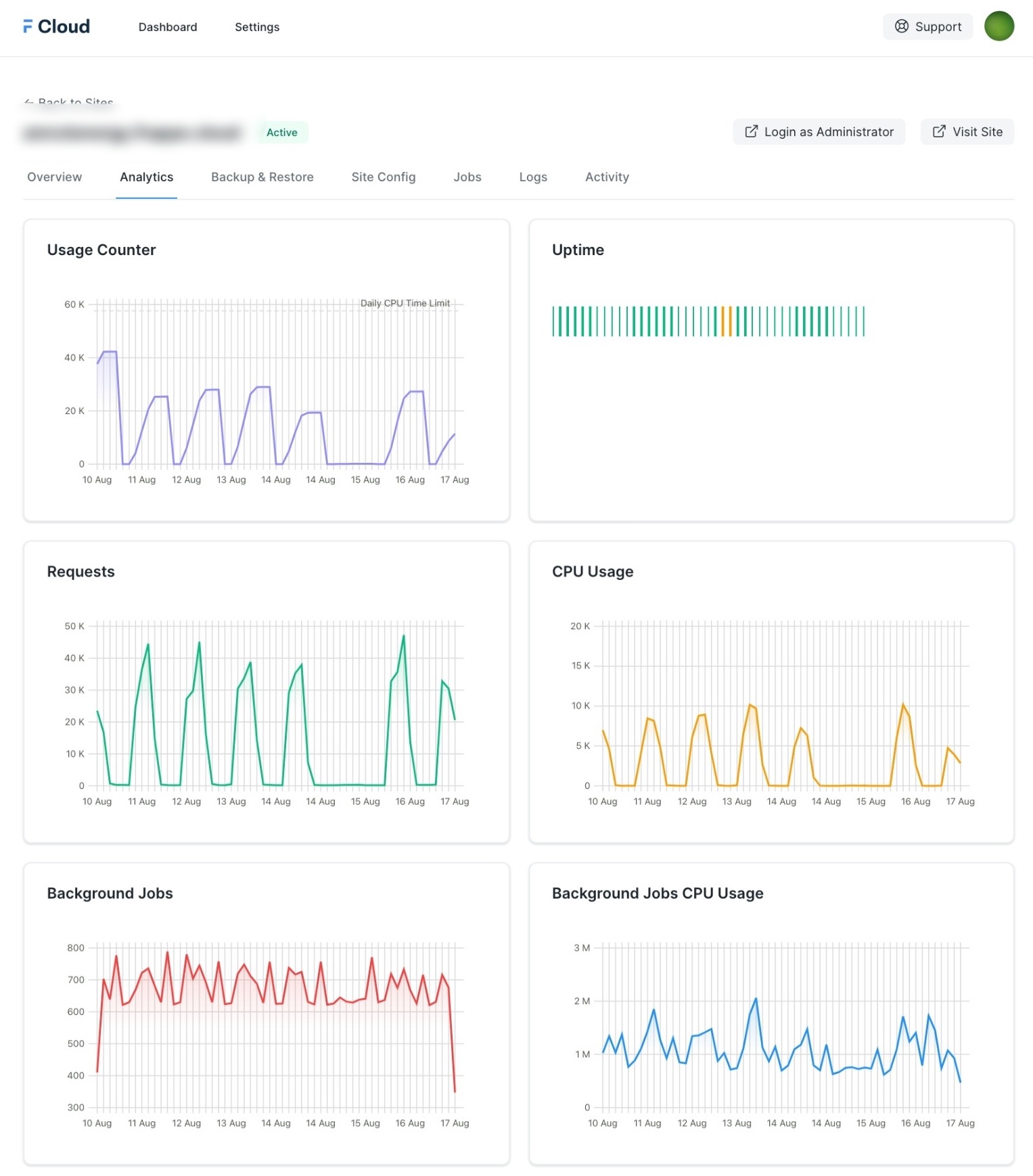 (Analytics - ​​Analytics tab shows a history of web requests and background jobs that ran on the site and can be used to measure the site consumption.)
(Backup and restore)
GreyCube appreciates that the FC team is working hard to improve and scale up in hindsight, but it will raise the bar if they could work upon the said suggestions. For raising an issue, the description field should be a text editor. The navigation for the support tab should be visible in the mobile view.
Memories from ERPNext Conference
GreyCube recalls some happy memories from the conference with Frappe's teammates. They feel Rushabh has a big vision for Frappe and he is executing it very well. Typically, a successful certification would be required for GreyCube to become a partner but Umair felt that since GreyCube had already met all the parameters to become a partner, they'd won Frappe's trust and therefore the certification requirement had already been achieved.
During the 2019 Developer Conference held at K J Somaiya College, Mumbai, after interacting with Nabin they were immediately given the merging rights for ERPNext, Frappe GitHub repositories which was a live example of the Frappe Culture of Open Source and having faith in the community members.
GreyCube has learned a lot from Umair who comes from a different legacy. Be it his zeal to work, write or speak, everything is precise and crisp. His knowledge with regards to the product is exceptional. Deepesh helped them fix the bugs and getting to know that he has perhaps a maximum number of commits on GitHub apart from the founders, amused the team. GreyCube attended webinars on features with Rohit and appreciated his development skills.
Team GC adds, Rushabh and Revant came all the way down to Gandhinagar - Gujarat to lead the ERPNext Developer's Meet in the winter of December 2017. In an interactive session, they learned the framework and apart from the sessions, they had some fun time, personal time, and exchanged great ideas.
Knowing Rushabh over a period of time, below are some of the things that team GreCube would like to highlight:
(1) He really welcomes people to the open-source community. He would make it a point to reply on discussing the first post of a newcomer.
(2) India has always been on the service side of IT. Rushabh (ERPNext) has broken the mold. A world-class software product from India is a dream come true.
(3) He believes in open source even when the journey was not smooth. He made two separate entity i.e. ERPNext.org and Frappe. Keeping ERPNext ownership with .org and ensuring that it would remain open source.
(4) Commercial business creates a company and gives employment to people in the company. For example, Tally has 800+ staff. Rushabh, by making it open-source and free, has ensured that whoever is ready to use it gets benefited. The point is it is not just Frappe staff getting employed, but the entire community on a worldwide level benefits from it.
"Team GreyCube wishes Frappe good luck and acknowledges the fact that the ERPNext conference helped them scale the ladder of success. They believe, together as a team, they can do more. The journey of ERPNext from version 9 to version 13 is revolutionary and they are looking forward to building healthy partnerships and increasing their implementation numbers."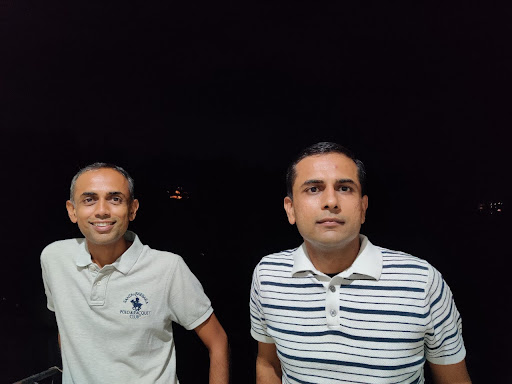 (Jignesh Shah & Ashish Shah - Greycube )
Wrapping it up
A lot can happen over a conference! From a homegrown ERP to becoming a Frappe Partner, this journey proved to be a game-changer for GreyCube. One need not get their hands dirty in expensive server management and rather get their integrations done via affordable cloud management at the drop of a hat. Moreover, since the cloud-related work is managed through a mobile browser, remote support has made the user's life hassle-free.
---
Take a free ERPNext trial for your business today!




Interested in becoming a Frappe certified partner? Learn more from here.
---