Indictrans converted from being a service provider to a partner.
Association of Indictrans with Frappe is just as old as Frappe. With 400+ ERPNext implementations, from complex to vanilla customizations, they have come a long way.
---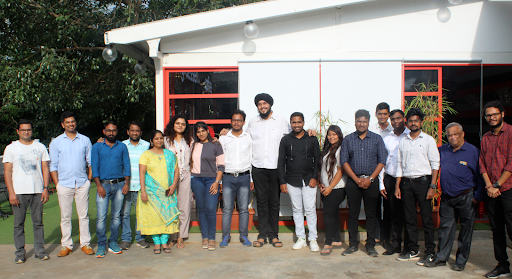 (Team Indictrans, from meet up for new joinees and nearby Puneites Oct`21)
How far would you go to spread awareness about the technology, internet, and software?
Team Indictrans, a bunch of technology enthusiasts and mentees under the vision of the Mentor Prof. Jitendra Shah tried to serve the community through the program "bridge the digital divide". Back then a Not-for-profit organization. Served through various back office and automation applications for the government supporting various pain areas both for govt and citizens equally.
Apart from applications, it helped to make the technology to reach to no access to computers and non-English [includes Hindi, Marathi and Gujarati] speaking people, which includes various level of translations/transliterations works for Operating Systems (OS) and applications both transactional and/or map based [GIS]. One of the activities was to make them know how to use computers and easy to adopt applications to benefit rural village students.
Foundation of Indictrans
With a dream to start a software company, Indictrans was started in 2009 by Kanhaiya Kale, Gupteshwar Joshi, and Swapnil Hajare. Initially, their focus was on e-Governance projects backing up skill sets and knowledge from earlier work. Open-Source GIS was their main forte.
On the e-Governance front, they provide solutions that enable real-time data collection, analysis, representation, and interpretation. The solutions address governance challenges in sectors like Smart Cities e-Governance, Asset Mapping, Planning & Urban Development.
Narendra Godse with vast experience in the eGovernance market joined over to look after the eGov division and helped its reach and scale to its current state and journey continued.
Crunching times at Indictrans before meeting ERPNext
Earlier, Indictrans worked on PHP, Java, SQL based custom solutions majorly. E-Governance was still a niche and lucrative market though it had its challenges and was not good for self-funded companies to flourish fully. There was a void, to fulfill that Enterprise footprint was the need of the time. They experimented with open-source software like OpenBravo and Adempiere. These ERPs gave them a hard time implementing the use cases. After struggling in many instances, they were looking for a solution that will help them to get an entry to an Enterprise, a much-needed break.
Steppingstone was when Prof. Jitendra Shah introduced the Indictrans Team to Rushabh and that is how Indictrans encountered ERPNext.
First project with ERPNext
It was a pre-ERPNext era when Frappe was known by the name of Web Notes. At that time Frappe was moving out of custom services and wanted to focus all its energies on the core ERPNext. Knight Frank was Frappe's oldest customer that was using a system built on Frappe Framework. Since Rushabh and Indictrans knew each other, Rushabh was looking to hand over this project to someone and introduced Indictrans to Knight Frank. It was a custom-built facility management system that they were already using. This was the first-ever project started by Indictrans with Frappe Framework and a much-needed break, but the direction was still not in sight.
After building a handful of use cases on ERPNext, they found a rhythm with the application, domain, and client started turning up. Bunch of new things, ERPNext was just newborn as an application, Indictrans were new with domain and services, clients too were trying to explore their offerings through a New Edge Open Source ERP. Everyone has contributed immensely to get over this and get going, and then there was no looking back. Along with India, they have also customized ERPNext in the US, UK, South Africa, and Middle East regions.
On the Enterprise front, they offer cloud-based, customized, user-friendly, and intelligence-intensive enterprise solutions based on ERPNext Platform for small, medium, and large enterprises to empower them with total business control and 100% operational transparency.
Today, they are operating with a team of 55+ people. 30% of which look after the government vertical and the rest 70% are busy building and implementing ERPNext. Both verticals contribute almost equally to their growth.
Today if you ask team Indictrans to rate themselves for their work, without any hesitation they rate their work 9/10. Be it customization, enhancement, or implementation. They feel the team is good in the manufacturing, retail, and service industry. On the education and health front, they are trying their hands and have a long way to go.
Modules appreciated by Indictrans
The team feels that 2 modules have come out extremely well, that is the Manufacturing and HR module. Having used SAP and Oracle in the past, they prefer ERPNext over them because they don't need to obtain a license based solution (perks of "open source software" :D ) and it started as next-generation ERP where you need not be locked in with horrible screens with special skills to handle.
Another feature they appreciate is the Data Import and Bulk Operation feature. Because now it can be done via the UI itself, they find it easier to use. It's a holy grail for the manufacturing industry as it resolves their major manual work.
According to them, the Human Resource module has come a long way. It is easier to implement and very useful. Again, it keeps the manual work at bay.
Collaborating with Frappe on Quickbooks Connector
In the initial days, they struggled with integrating Quickbook to make a connector, and for that, Indictrans was funded by Frappe. It was a complex process that took away their sizable amount of time. Since it took a long time to realise and iterate over use cases and not much customer traction and support either, eventually the project slowed down and parked.
They're Bronze Partners and participated in sprints organized by Frappe. Kanhaiya adds, much as they are good with implementation they fail to contribute to the ERPNext community in terms of coding and development. They aim to contribute in the near future and help the community by giving back.
Motivation to implement 400+ projects?
Since they are so inclined towards the technology and did a good number of implementations,
I was curious to know what motivates them? The team says,_ "Frappe Framework is really good and people are in awe of ERPNext. For those who are aware of the team, community, understand the whole ecosystem, and the kind of recognitio_n they get post-implementation has got them this far."
Recently, there was a survey conducted by Mitali from the Partners Team at Frappe, and she shared the report and feedback from the customers in India and out of India. They were thrilled by the feedback and acknowledgments from their old and new customers. Such feedback keeps them grounded, motivated and assures that they are heading in the right direction. It also helps them improve.
Converting from an independent service provider to Frappe partner
Earlier the partnership model with Frappe was in the evolving phase. It took a while for team Indictrans to explain its benefits to the customers. The revised arrangements of the Partnership model worked well with them. Customers are feeling better because they have a history of vast experience in the world of ERPNext, and since they are the authorized partners now, it is easy for them to take the conversations ahead.
Feedback for Frappe
"Team Indictrans feels there is a need to have an ecosystem and Rushabh got it right, we have that in place. Earlier, the stakeholder for the partners was missing, from the moment this initiative started till date, it has improved. Without partners, it is difficult to implement. The partner program is going well and will be beneficial in the longer run.
They're happy to be connected with ERPNext, they feel lucky to make this decision. Going ahead, they foresee the success and think that it only will multiply right from community members, team members at Indictrans. Their intentions are clear and everybody is working with the same enthusiasm. The improved version of ERPNext is really good, and the redesigning work has created a good impact. They wish the Frappe team the best of everything and look forward to a lifelong association. The team adds, some things are destined to be and ERPNext is one such magic that happened to them."
Wrapping it up
"Whatsoever a person soweth, that shall they also reap." We have heard this statement throughout our lives and this is exactly how the law of the universe works. The team Indictrans started with a noble thought of educating the underprivileged class, destiny made them meet ERPNext, and being technology enthusiasts, they figured out their path. Today they are working on technology across the globe.
By any means necessary 400+ implementations are no small number, and it was achieved by sheer dedication and hard work. We are glad to be associated with Indictrans and we continue to take this relationship forward by being transparent, doing the right work, and constantly improving in all aspects.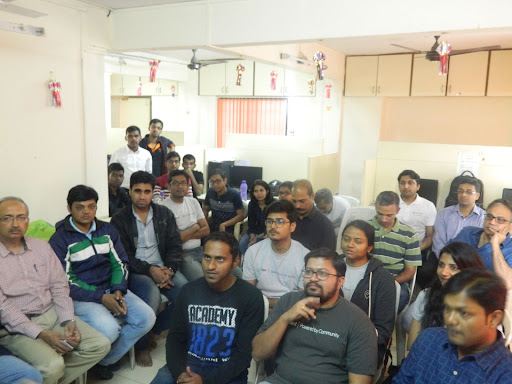 (1st ERPNext meetup organized in Indictrans office in the year 2017)
---
Take a free ERPNext trial for your business today!




Interested in becoming a Frappe certified partner? Learn more from here.
---