Chapter 10: ERP Procurement System or Buying Module
As a business that sells physical goods, buying quality raw materials is at the core of Spindl's values. All manufactured clothing starts with raw materials that are procured from a variety of suppliers—yarn, thread, packaging, labels, etc. Due to the size of the operation and the many variants of clothing items, it can be a hassle to track what is needed and when. Moreover, with multiple suppliers for the same raw material, cost differences also come into play.
To make the buying process seamless and efficient, Lyn enlists the help of Max (from Spindl's Procurements and Inventory department) to set up a purchase module in the company's ERP system. On paper, the process seems fairly simple—based on their manufacturing projections, Max's team reaches out to various suppliers and places orders.
Often these purchases are made in a way that does not track supplier quotations and they just went with the first or second supplier they contacted. This leads to them buying materials at higher prices, which negatively affects their cash flow (and profitability).
With this in mind, they work on implementing a workflow that allows them to track communications and make the best possible decisions.
Why use ERP for purchases?
The purchase/buying cycle deals with your company's stock, assets, and cash outflow in the form of purchases. These can range from individual raw materials for manufacturing, laptops used by administrative employees, to the stack of sticky notes in your office's stationery. It encapsulates all expenses incurred by your company. All of these purchases directly influence other integral parts of your business, such as inventory and accounting. The better your purchases are managed, the better these other functions will be.
This kind of integration and symphony of data is made much easier when using an ERP. Besides, it enables you to make quicker and more efficient decisions, reducing any potentially wasteful and damaging fallout.
Breaking down the workflow
In comparison to some of the other workflows we've discussed, the buying process is relatively simpler. Let's take some time to familiarize ourselves with some key terms that may be new to us, and add context to existing definitions we've discussed earlier. Some of the terms in the flowchart below come into play when managing Inventory and Accounts, so we'll save those for later.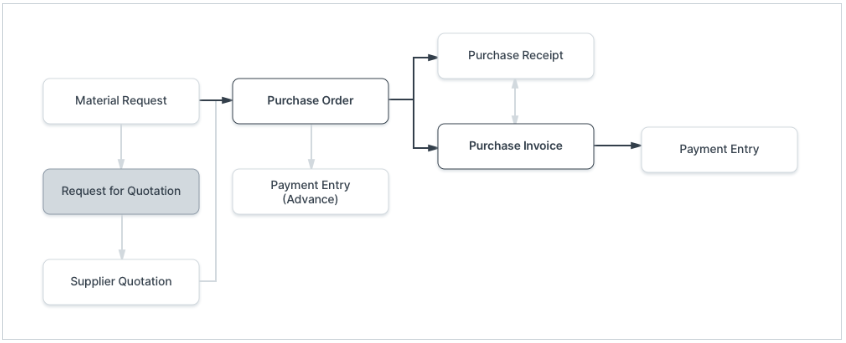 Figure 6. Standard ERP buying workflow
Item
Any product, material, or service that your company buys is considered an item.
Material Request (Purchase)
Any material (i.E. Item) that is being requested for purchase. Once a purchase manager approves it, a request for a quotation (see below) can be made.
Supplier
Suppliers are companies or individuals who provide your business with products or services. In an ERP system, you can create multiple suppliers and sort them into various categories. This helps you to create a centralized buying system with your suppliers.
Some ERP systems will also provide you with supplier scorecards, a tool you can use to evaluate the performance of suppliers. Generally, they allow you to keep track of item quality, delivery, and responsiveness of suppliers over a long period.
Request for Quotation
A request for quotation (or 'RFQ') is a document that an organization sends to one or more suppliers asking for a quotation for items. These items are usually stored in the ERP system as well, which enables tracking against stocks and inventory. RFQs can be made against approved Material requests.
Supplier Quotation
A supplier quotation is a document specifying the items, conditions, and costs of the goods/services a supplier is willing to provide to your business within a specified period. Suppliers that have been granted limited access to your ERP can view the relevant RFQs and respond to them within the ERP with a drafT supplier quotation.
Purchase Order
A purchase order is a binding contract between you and your supplier. The contract details the agreed-upon terms and conditions (e.G., Taxes, time frame) of your purchase from them within a given period. After this step, the logistics are generally handled using inventory and accounting modules.
Your chosen ERP software may also have purchase taxes & charges templates, which are templates that you can create to apply tax conditions to any items you buy.
Buying Reports
Purchase order trends: Through this report, the trends for purchase orders for a given financial year can be visualized. The trend can be grouped based on Suppliers, Supplier Group, Item, Item Group, and Project.
Purchase analysis: Through the Purchase Analytics report, the purchase-related data against the supplier, supplier groups, items and item group can be analyzed over a given period and frequency.
Purchase Order analysis: This report is helpful in analyzing the items and their billing status in a purchase order over a given period.
Setting up a purchase management workflow
Max begins to train employees to use the new ERP system. Let's take a look at what the new workflow for buying is:
A comprehensive list of all Suppliers is added to the system. This allows them to interact directly with the Suppliers through the ERP interface. Supplier Scorecards are also maintained and updated regularly.
Material Requests for Purchase must first be approved. When any purchase requests are made (whether it be for raw materials for production or otherwise), they must be evaluated and approved before any transactions are made.
When Material Requests are approved, an RFQ ('Request for Quotation') is sent out to the relevant Suppliers. This gives Suppliers a document that will detail Spindl's current needs. These should ideally be made against approved Material Requests.
Supplier Quotations should be evaluated for the best possible deal. When Suppliers respond to the RFQ, evaluate them to see which proposal is ideal (in terms of quality, cost, time, etc.).
Once the optimal Supplier Quotation is picked, a Purchase Order is created against it. This Purchase Order will act as a binding contract between the Supplier and Spindl and begin the process of purchase.
Benefits of using an ERP's buying module
Using the new workflow, Max and his team find that it becomes easier to coordinate with the manufacturing department and ensure that they always have enough stock in hand to make sure their production cycles are not broken. All the purchases are easily tracked and the status of orders is readily maintained. Rex and his accounts team can view and analyse the cash outflow from purchases and make related accounting decisions easily.
All the suppliers trust Spindl more as their relationship is maintained better and conflicts diminished due to untracked orders.