The ERPNext Newsletter - December 2021
December 9, 2021
Hello,
Happy December to you and yours! I am Ambareen from the Marketing team at Frappe. Ever since Prasad moved ahead for his future assignments, we almost stopped sending you the newsletters. Please accept our apology for the same. From now on, we will be consistent and bring you the latest news from ERPNext and Frappe.
Having said that, the month of celebration is right here and we cannot wait to see the magic unfold, blessing us with all the goodness it has to offer us. We've come a long way after fighting from variants of Covid, and just like that Omicron will also vanish. Hold on tight to that spirit.
November has been a busy month for everyone at Frappe. The virtual ERPNext Conference was a success. The team rolled out v13.14.0 and v13.15.0 for ERPNext Features and Frappe Framework. We've had a webinar introducing e-invoice at KSA. We are striving to become an ISO-certified organization, and hence we underwent an external audit. Hard work helped us earn 10k stars on GitHub. Know the contributor of the month and more.
Let's take a deep dive and understand what's brewing at Frappe.
E-Invoice for KSA
Now, all the VAT registered residents can issue e-invoice with QR Code directly from ERPNext. Our partners, Mohammed Redha and Mohammad Ahmed Zulfi from Accurate Systems helped us implement this in the KSA region. Now, ERPNext is compatible with KSA e-invoicing and VAT Reports. ZATCA has qualified and listed it as a compliant tool on their website. Harshit and Umair from the Product team conducted a Webinar to introduce e-invoice. Members from the community attended the same.
10k Stars on GitHub, yay!
Since ERPNext is used by developers for business purposes, achieving 10,000 stars on GitHub is a great achievement for Frappe. We are grateful to the ERPNext Community that is highly active on the community platform and contributing on GitHub by sending pull requests, raising issues, performing tests, writing documentation, giving feedback, and evangelizing ERPNext.
Nabin, Co-founder at Frappe wrote a blogpost on achieving this milestone: ERPNext has 10,000 stars on GitHub! ?

(10k stars on GitHub)
Release Notes for v13.14.0, and v13.15.0
The highlights in the release notes include some enhancements for ERPNext Features and Frappe Framework. You can read this blog further to understand more about bug fixes and new introductions. It includes updates on tax in additional salary, e-invoicing, dashboard, custom report, report builder, etc...
Find out more updates here: A highlight of what's new in ERPNext and Frappe Framework v13.14.0, and v13.15.0.
FOSS United Hackathon 2021
We took part in FOSS Hackathon that was organized in mid-November. Frappe was one of the sponsors for this event. It was delightful to see Hussain Nagaria actively participating in this competition and he won for making a DigiStore using Frappe Framework. He made a self-hostable platform to list and sell digital assets like e-books, audio, etc. Open Source Gumroad!
His project was evaluated based on technical complexity, completeness, product thinking, utility, and viability. For further details on his project head on to this link: An online portal to sell digital products
ERPNext Conference 2021
Recalling Dumbledore here when he said, "dark times lie ahead of us and there will be a time when we must choose between what is easy and what is right". Pandemic has certainly robbed us of the charm that comes from in-person meetings, and hence our first virtual conference was up last month. People from all over the world joined us to share their valuable thoughts and strengthen the ecosystem. There were some great presentations delivered by the Engineers, Partners, and our Founder. You may check them on our YouTube channel.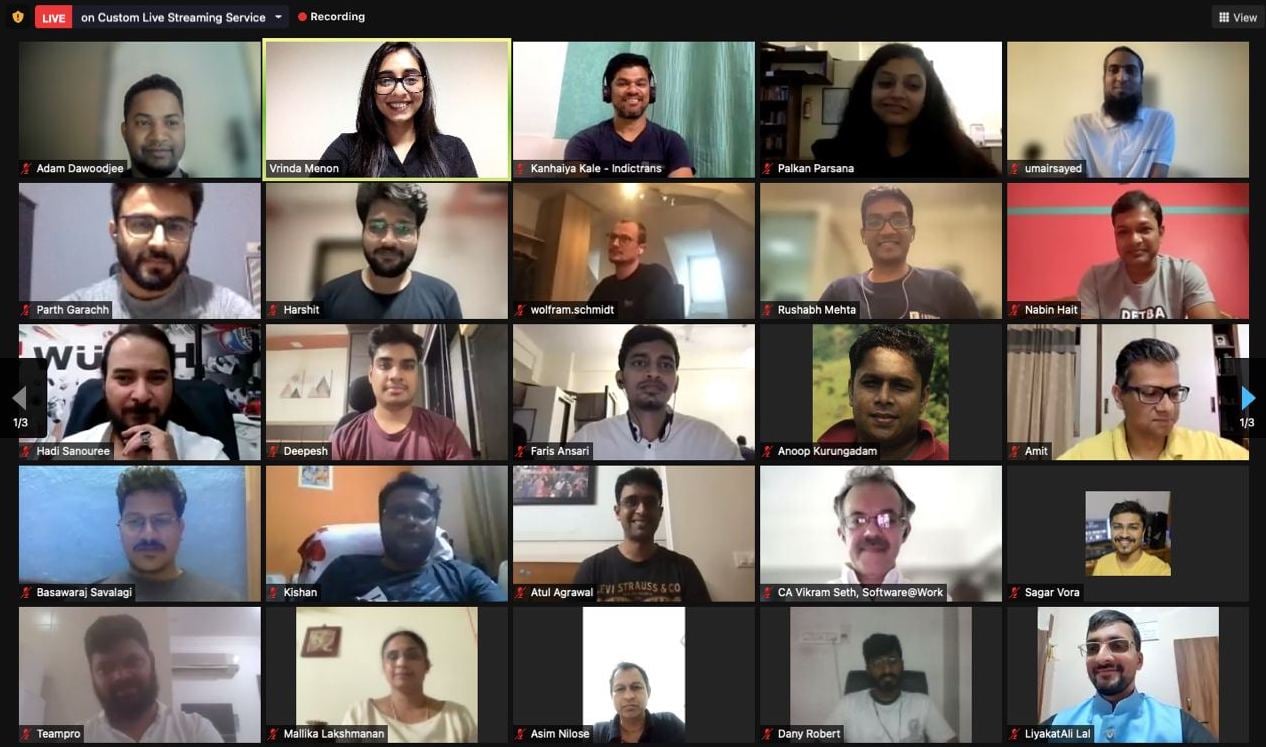 (Glimpse from the conference)
Becoming ISO compliant (ISO 9001:2015 and 27001:2013)
We understand the importance of ISO 9001 and 27001 certification, and hence we tend to become an organization that is also recognized throughout the world for meeting quality and security standards. Michelle and Mayank were instrumental in managing the audit. Other team members contributed equally to align with the work and get the systems in place. So yes, the good news is we are close to being called an ISO 9001:2015 and ISO 27001:2013 certified organization.
Contributor of the month
During the conference, few partners and community members were eager to know about the contributions and work happening at Frappe. Every month there is an open day where teammates showcase their work through presentations. There are individual and team presentations, both. From now on, we have decided to choose the contributor of the month. Someone who has walked a little mile extra, and made an earnest effort shall be announced as the winner. The votes are given basis the performance. Ankush was voted as the contributor of the month. This short blog post will give you the context: Contributor of the month - November 2021
Welcome on-board!
The recruitment team is making conscious efforts to have people on board who can be aligned with the vision and values at Frappe. For the rest of their work, other team members are kind enough to help the new joiners navigate their way in order to achieve excellence. Last month, we had a lawyer join at Frappe family.
Take a glance at Careers at Frappe. Maybe, share it with an open-source enthusiast? To know more on recruitment process at Frappe, please read this blog: Good recruitment process is the key to building a great team
---
Cheers,
Ambareen S
ERPNext.com
Think a friend/colleague would like this newsletter? Go ahead and share it. The ERPNext Newsletter