What are point of sale (POS) systems and how they're used in businesses
Point of sale (POS) systems are essential to run bill items quickly at counters. But they also need to be linked to other parts of your business.
---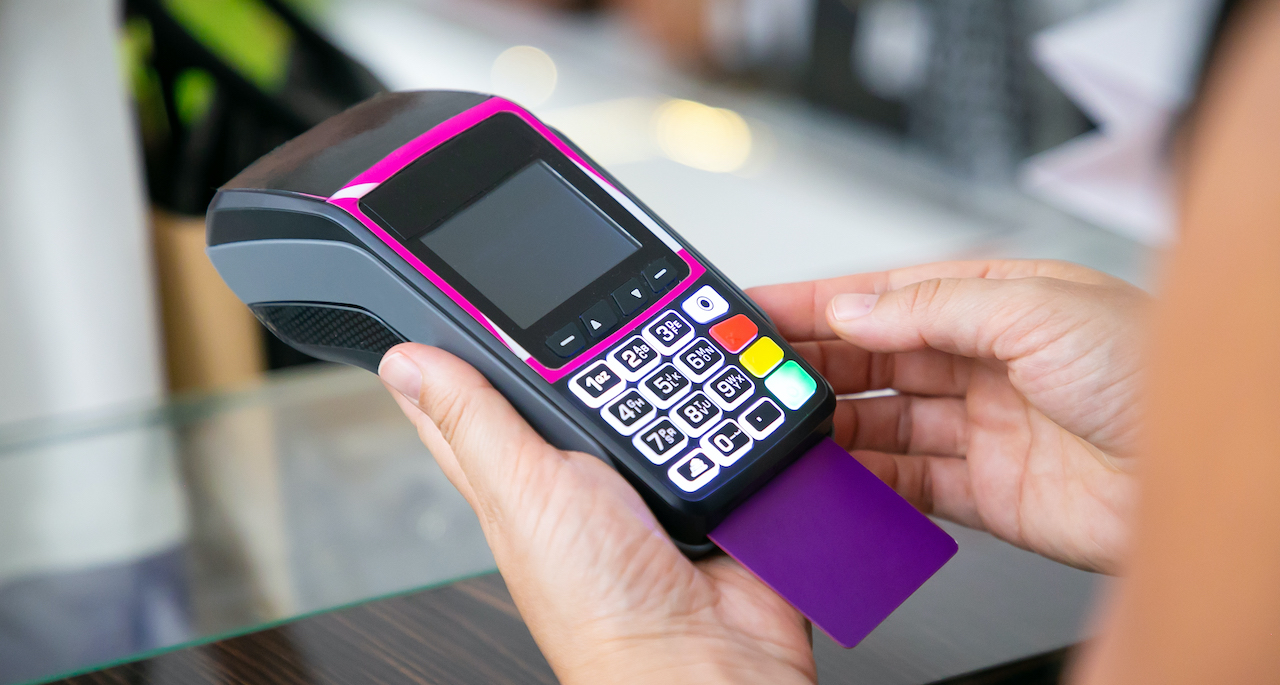 Ryan owns a B2B kitchen equipment manufacturing business. Seeing success one the B2B side, he decides to open two new shops for consumers. Since they're medium sized shops, each of them has five cashier counters. In commercial transactions, it was quotes, orders, and payments. But he needed something different for offline consumer invoicing.
What are point of sale systems?
Ryan knew that a point of sale is a place where a transaction is completed where money is exchanged for goods. To refresh his memory, he looked up what a POS system is. A point of sale or POS system is a set of connected hardware and software components that work together for enabling billing inventory quickly at counters. The software in POS systems typically have quick access buttons or shortcuts for enabling fast operations.
How do point of sale systems work?
Ok, so now let's see an overview of how do typical POS systems work:
A customer comes to one of Ryan's store counters with one or more items they've decided to buy.
One of Ryan's workers at the counter scans and adds the items.
The POS system automatically fetches prices and calculates the bill along with any additional charges and discounts.
Person at the counter hits buttons to generate invoices and the customer pays the bill.
Now, the system also updates the inventory levels to indicate that these units are now sold and no longer available. This may happen at every transaction or at the end of the day when closing the POS counter.
Additionally, more data from multiple counters and branches are synchronized with the main data system, typically an ERP.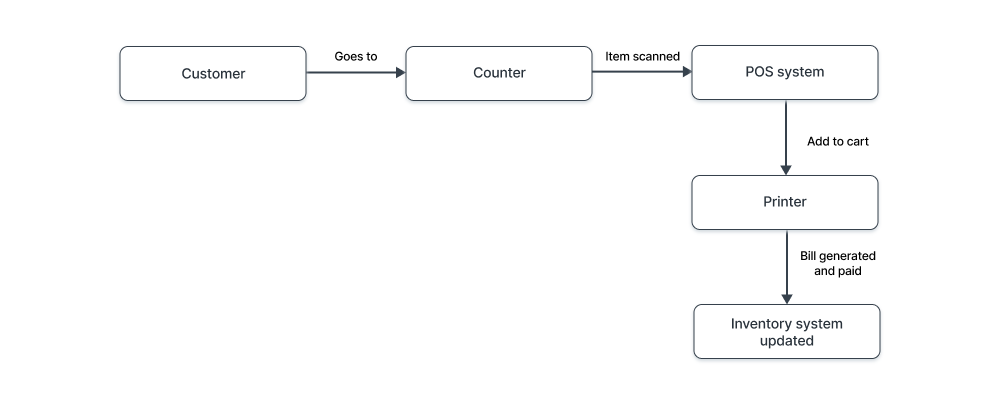 What is a point of sale machine and what else is used?
Ryan saw the clear benefits and the need to set up POS systems at his consumer stores. So now, he made a list of things needed to set up a POS system.
A typical POS system comprises two parts, software and hardware. Both are necessary to carry out daily transactions at the counters.
POS hardware
The hardware required for a regular POS system are as follows.
Computer
A computer with keyboard, mouse, and monitor (a touch screen monitor for ease of use, tablets are effective).
Barcode scanner
A barcode scanner for quickly adding items for checkout.
Card reader
A card reader for accepting debit and credit card payments
Cash drawer
A cash drawer since a lot of transactions still happen with cash payments
Printer
Printer for printing the invoices/bills/receipts.
POS software
Along with hardware, the glue that holds everything together and enables the system is a POS software. Let's see some common features in a POS system you should look for:
Payments
Along with processing payments, a POS system should also be able to easily set up and configure different modes of payment.
Managing stock levels
When items are sold, their count is reduced from available inventory. This data needs to be updated every time a checkout is complete. Hence, the POS should also be connected to your inventory management system and update the stock levels.
User profiles
In a company, there can be multiple POS counters handled by different people. Having unique user profiles for users helps track which employees/counters are doing well. It also helps recording counter opening and closing times.
Connection with CRM
Setting up a customer profile helps identify who are your frequent customers and what they buy the most. Using this data promotions can be made.
Reporting
At the end of the day, you want to know the financials and inventory levels. In POS, accounting and inventory reports are useful for this.
Connection between POS and ERP
Ryan understood that using POS systems at counters benefited his business with quick transactions and invoicing.
In addition, it's also inferred that POS and ERP systems are interconnected for accounting, inventory, and customer records. Ryan needed to integrate his POS system to his ERP system for the inventory, accounting, and other records to be synchronized and updated in a timely manner.
But he had a better option, the option to use an ERP system that has a point of sale ready to use out of the box.
How to use point of sale in ERPNext?
ERPNext is one such ERP that has a point of sale system bundled and ready to use. Now let's see how to use the point of sale system in ERPNext.
Setup
To set up the point of sale system in ERPNext, you need to have the following already created:
Items
Customer
A POS profile
A configured mode of payment
The POS profile has options to configure various settings to enable easy POS transactions. Settings in a POS profile include multiple things like
Assigning a profile to users
Default payment methods
Item and pricing configurations
Item and customer filters
Accounting configurations
Setting up these things here makes it easier when using the point of sale system.
POS transactions
Once the prerequisites are set up, you can start using point of sale in ERPNext.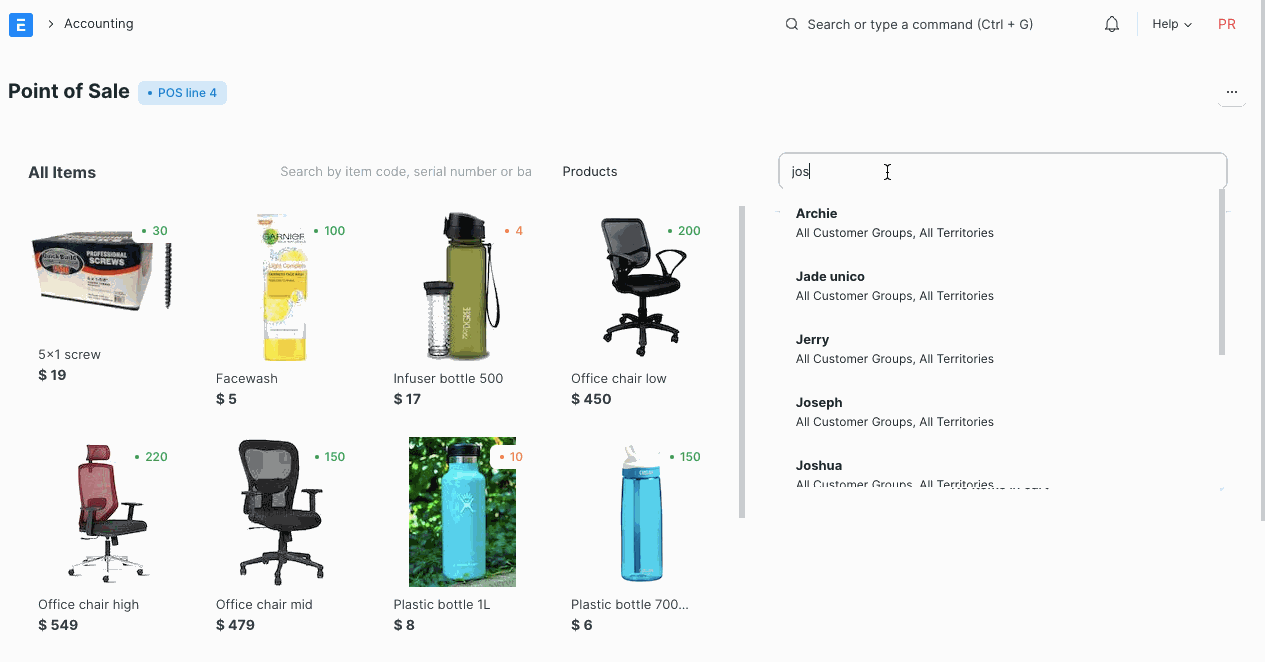 Returns
You can also handle returns in ERPNext.
When in the POS screen, click on the menu and click on the Recent order list. You can also access recent orders with a keyboard shortcut. Press cmd + O.
Now, select paid invoices and click on the Return button.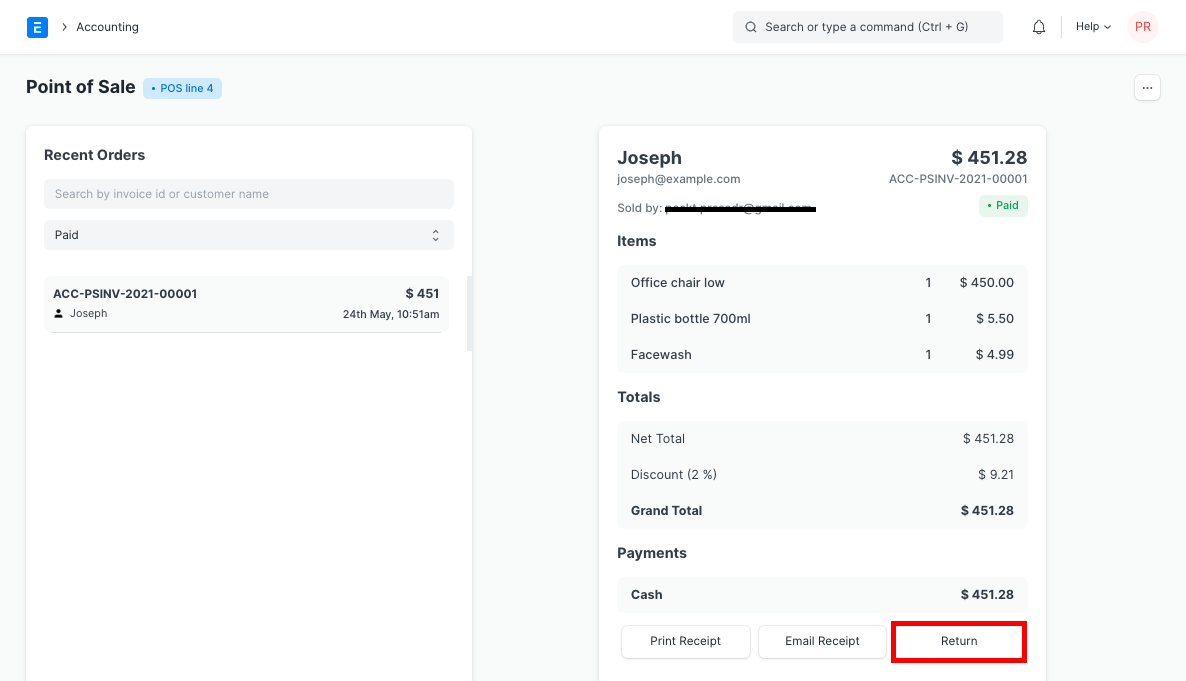 This will take you to the POS screen again. This screen will show negative quantities and amounts. Here you need to manually check and keep items being returned: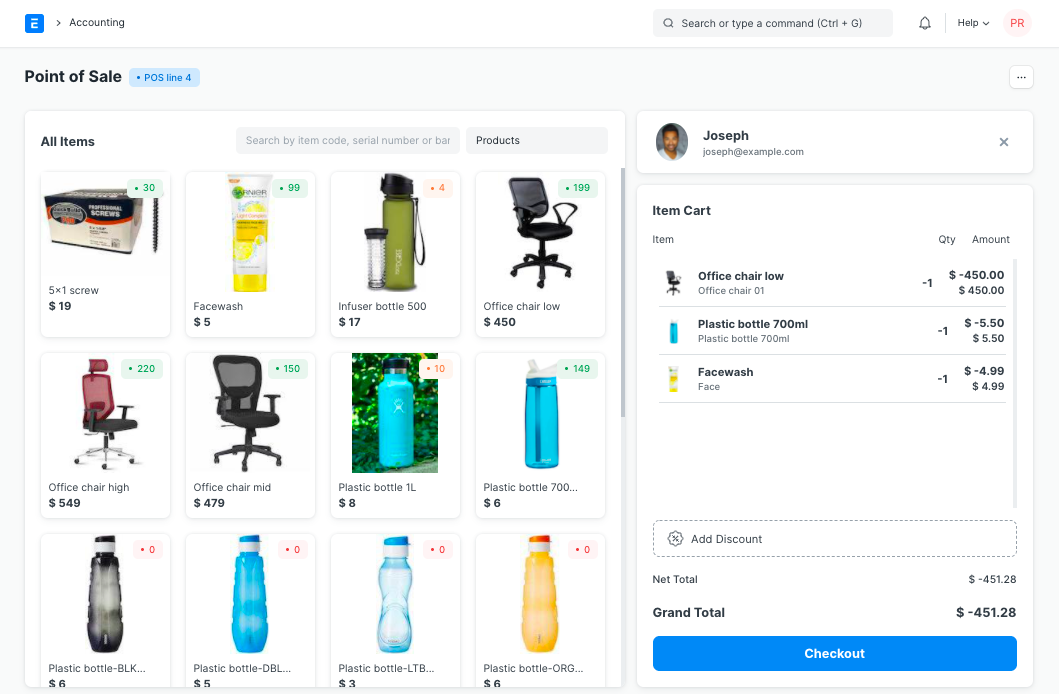 Let's say Joseph returned only one item, Facewash: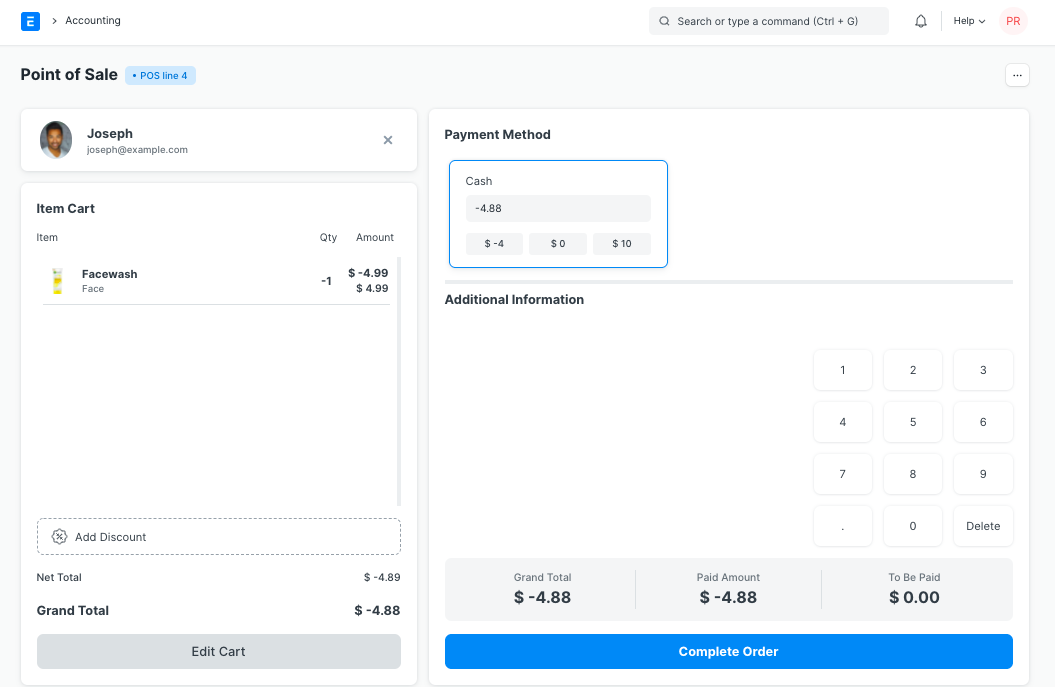 A return POS invoice will be created.
POS Keyboard shortcuts
To make things easier, a whole bunch of shortcuts in points of sale make it much easier.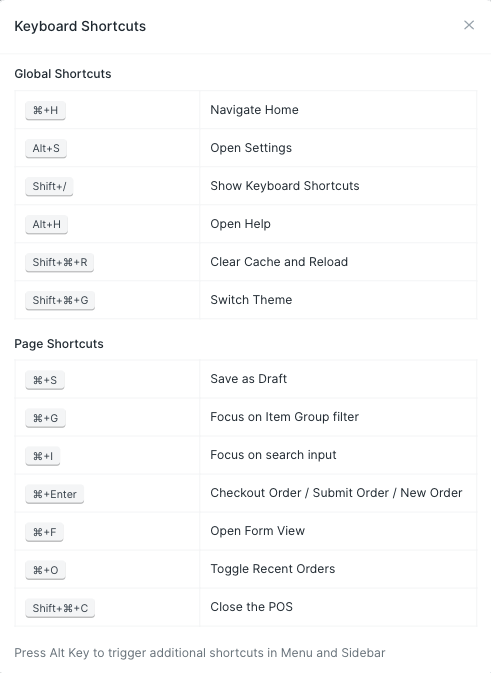 Use ERPNext point of sale offline (hack)
As of version 13, POS isn't available yet for offline use. But, you can make it work offline with some tinkering. You'll need:
A local bench and ERPNext site setup
A hosted ERPNext site
You can use the local setup offline and when the internet is back on, you can get it synchronized with your hosted online site with the help of event streaming.
Conclusion
We saw the components of a typical POS system and how they work together to generate bills. While POS takes care of the transactions at the counter, you also need an ERP system to handle the inventory, accounting, and other parts of your business.
---