Use kitting to simplify inventory management. Save time, money, and space. (it's not product bundling)
What if there's a way to procure items efficiently to save time and assembly space. That's kitting, let's see all about it.
---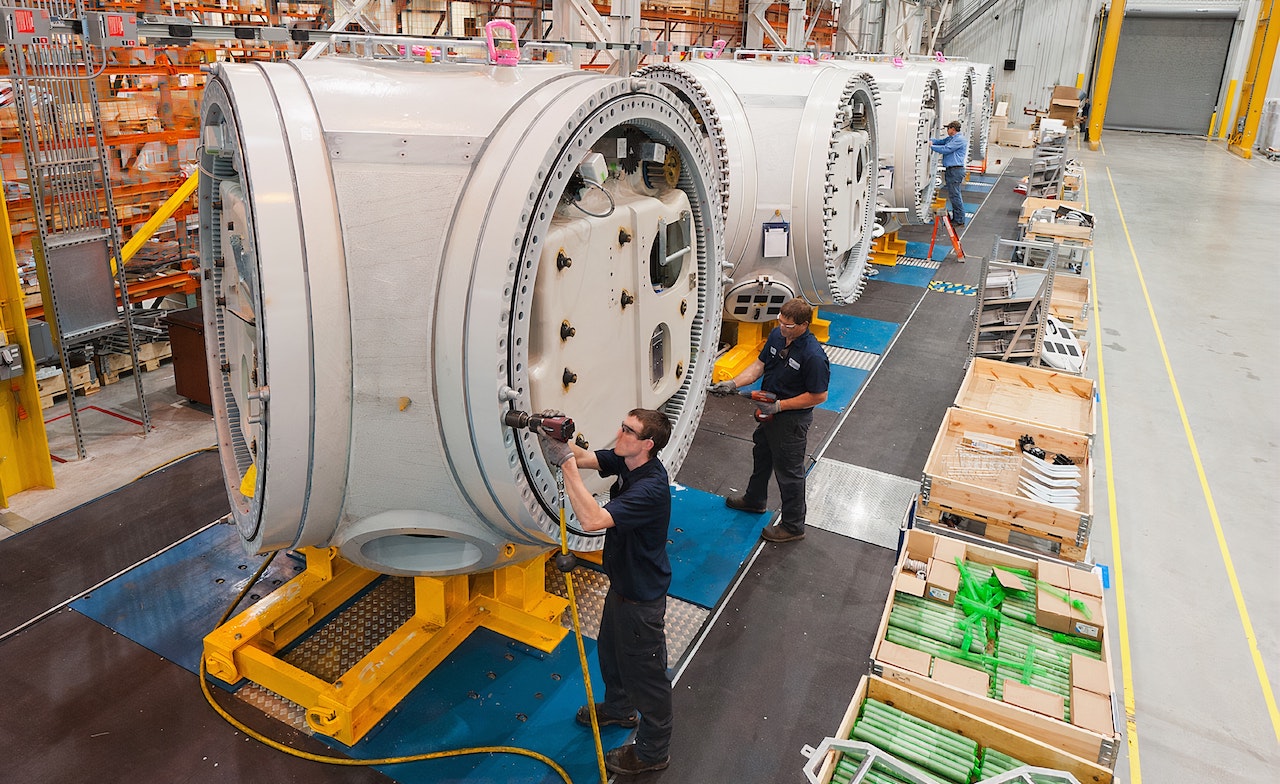 Maintaining inventory for hundreds of small items that go into manufacturing items doesn't make sense. Nor does selling smaller items over multiple shipments. That's why many manufacturers practice kitting.
What is kitting?
Kitting is a B2B inventory management strategy where the buyer is a manufacturer and the supplier is a packing service/distributor. If you're a manufacturer with multiple assembly lines and product lineups and each product you manufacture or assemble requires hundreds of parts, you're not going to manage inventory for each nut, bolt, screw, and washer separately. It's just not practical. So, this is where kitting comes in, you'd tell your supplier that you want this many kits with these specifications and you get ready to assemble kits or packed raw materials to use in your production line.
Although you may see the term thrown around casually, in industry, kitting is specific to assembly line operations since you buy kits and kit together parts to create products. In kitting, different but related products are grouped together to form 'kits'.
Why use kitting?
Kitting is used as a way of saving on time and material handling costs by either sidelining it to a different department or to a third party. Kitting is a common practice to procure assembly kits without having to deal with the logistics of maintaining inventory for each small item. Since you place fewer purchase orders, kitting takes load off your logistics, inventory management, and improves assembly line efficiency.
5 benefits of kitting
From saving materials to time, kitting has multiple benefits. It can also contribute towards increased worker productivity. Now, let's see the benefits.
1. Saves assembly space
Since components to be used for assembly are packed together in containers or boxes, less physical space is required to manage them in the assembly line.
2. Better worker productivity
Workers spend less time searching for individual items and can focus on assembling items or processing them through the production line. This leads to higher worker productivity.
3. Efficiency in the production line
Processing kit containers is much faster than processing individual component containers. This results in better shop floor control and a more efficient production line.
4. Helps in quality control
Since kits are formed even before the items enter production, any defects can be caught and fixed much earlier in the cycle. This contributes to better quality control and reduces the chances of defects.
5. Helps in standardization
New workers often take some time to get used to your warehouse layouts, finding items, and sometimes even operating machinery. If most of your production items are ready to use kits, new workers won't have much trouble to move them around and start the assembly line as compared to individual items.
3 Types of kitting
As defined by Bozer and McGinnis in their 1992 paper titled "Kitting versus line stocking: A conceptual framework and a descriptive model", there are three types of kitting observed in the industry.
1. Kit to customer
A bunch of parts are grouped together to create a ready to assemble group of items and shipped to end consumers. Examples include IKEA furniture and many modern bicycles.
2. Kit to manufacturing
Individual components are grouped together in a box or other packaging and sent to the assembly line or workstation to be assembled or manufactured. Many manufacturers procure kits in order to focus their resources on manufacturing.
3. Kit to maintenance
When a service person travels to the client's site for maintenance, the problems could be different in different situations and hence impractical to carry all replacement parts and tools all at once. To simplify the process, the problem is first understood over email/call, then the service person carries applicable parts and tools accordingly to provide service/repairs. Such kits are called kit to maintenance.
Kitting and inventory management
A major part of successfully carrying out kitting operations is proper inventory management. If you're creating kits with items and also selling them individually, or there are more quantities of certain items in the kits, you need to watch your inventory. Insufficient inventory to fulfil kits results in delayed orders and that leads to unhappy customers.
To manage all of this successfully, you need logistics and software. Hence handing off kitting to third parties is a common practice.
Kitting versus product bundles
You may find pieces online that state kitting as an ecommerce strategy to fulfil orders. But this isn't quite the case. Kitting primarily is a strategy to procure inventory for using in assembly lines and workstations. For a group of products bundled and sold together, 'product bundle' is the more appropriate term.
Here are some reputable sources that show kitting as a procurement strategy in manufacturing and not a retail box strategy.#1, #2. According to these texts and others from academia, I could say that 'ecommerce kitting' is just a made up term.
Kitting with ERPNext
Now that you know a lot about kitting, the only thing left to discuss is how to do it with software. Let's see this with an example. We'll achieve kits by using BOMs in ERPNext. BOMs are hierarchical by nature but kits are only single level BOMs.
Bill of materials as a kit
In the ERPNext context, a kit can be thought of as a subassembly item with a BOM. Let's consider the example of a refrigerator where there is a kit for the gas unit. The cooling system, compressor, coils, and other main components may be fulfilled by different kits. For the gas unit, take a look at the following screenshot:

BOM for a subassembly
In products with multi level BOMs, the subassemblies can be treated as kits for which you acquire ready made kit containers. In ERPNext, there can be BOMs for each subassembly across multiple levels. And each subassembly can be tracked as a kit. It's easier to create BOMs of only one level. Your supplier most likely will only provide you with the packing service to pack multiple components and not any kind of assembly.
Purchase orders for procuring kits
Finally, you'd want to outsource this whole process to a third party that specializes in kitting. You can create a Purchase Order in ERPNext for tracking procurement and send your supplier a PDF of the BOM you just created to track kits.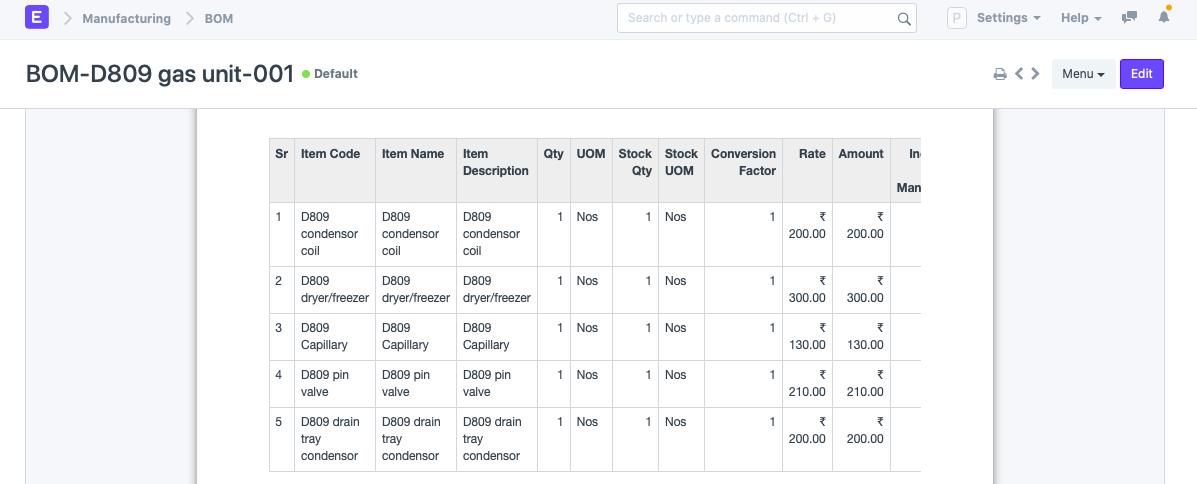 Conclusion
There you have it. Kitting items together may have some costs associated with outsourcing but surely saves a lot of time, man hours, and money in the end. Do you procure kits for your assembly line or thinking of starting?
---