All you need to know about packing slips and why they're used
A packing slip shows all the details of a shipment. But what are its uses exactly?
---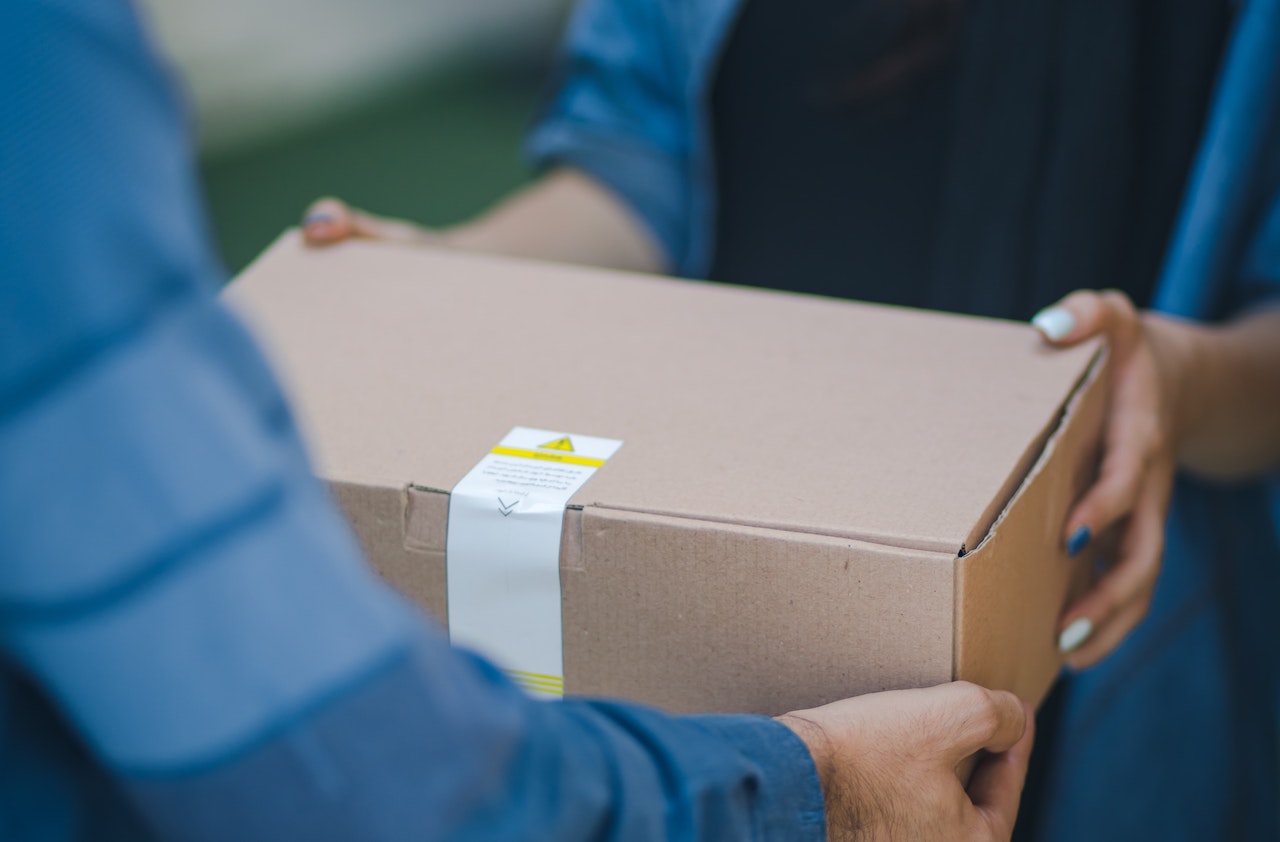 Packing slips are crucial to ensure the right shipments leave warehouses and reach the customers. If what you send isn't exactly what reaches your customers, it'll lead to unnecessary disputes and headaches later.
What is a packing slip?
A packing slip contains all details of a shipment like item SKUs, names, weight, quantity, dimensions, etc. The slip may also contain details of the customer like name, address, total amount, and taxes. It's generally attached or glued to the boxes being shipped by the supplier.
Why use a packing slip?
Before sending off a package, workers from the supplier's end can check to ensure that all items from an order have been packed. At the other end, when a customer receives an order with a packing slip, they can review the package contents and verify if they got all the items listed in the packing slip. This is especially useful when certain orders are fulfilled over multiple shipments. For example, a customer buys 9 computers in one order and they're shipped over 3 shipments with 3 different packing slips.
It's worth mentioning that not all businesses use packing slips, especially for smaller orders.
4 reasons to use packing slips
Although not every company uses it, there are good reasons to use them in certain situations. Let's see 5 reasons why.
1. Shipping everything without miss
Before a shipment is packed and sent off, it's important to ensure that it contains everything as per the order. The exact variants, products, quantities of products, weights, etc are verified using a packing slip. Once verified, the package is sealed, the packing list is attached and the shipment leaves for the customer.
2. Tracking an order accurately
Often, in B2B scenarios, the orders are quite large or the materials are such that one order is fulfilled over multiple packages and shipments. A packing slip comes especially handy in such cases since every shipment's packing slip will show how many items were sent in the current shipment and how many are there in the total order.
3. Verification of items received
When the package is received by the buyer, they check and confirm if all items they ordered are present in the shipment. This way, the buyer can identify if any items are missing or if the correct variants were delivered.
4. Keep custom costs correct
In certain countries when importing goods from other countries, shipments should include a commercial invoice and a packing list. These documents are used to value the shipment and the package may be valued at a higher rate if they're not included. This results in higher custom duties charges.
Packing slip example
Here's a packing slip example in PDF format generated by ERPNext: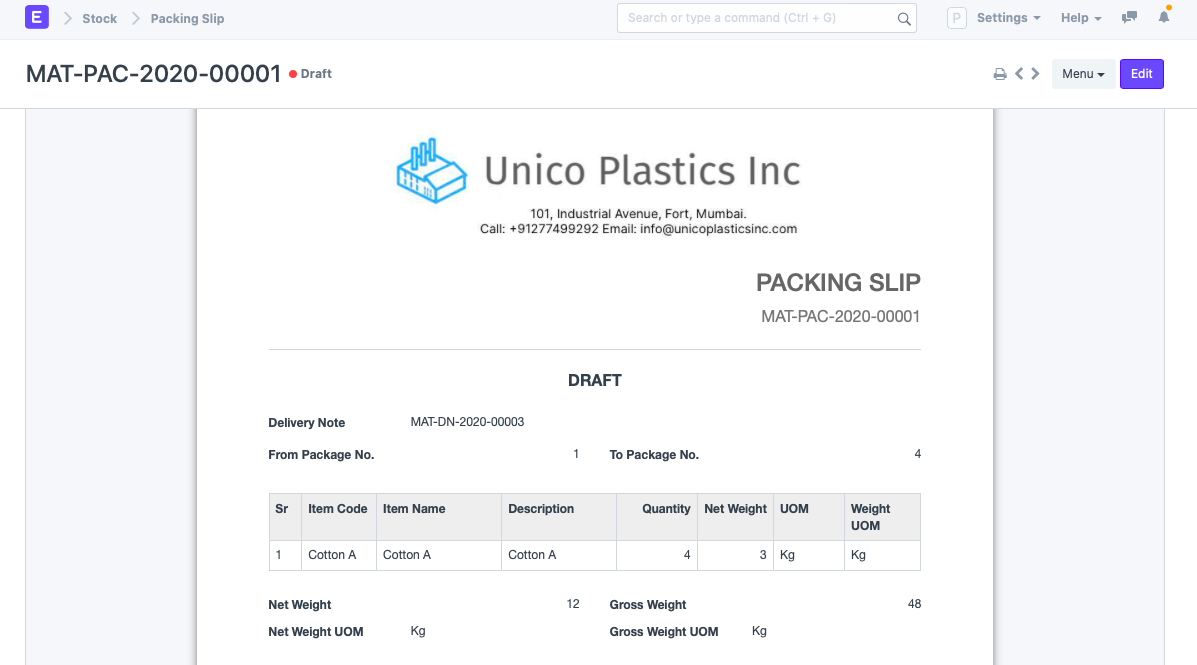 If you want to see the PDF file yourself, here's the link.
It's a good idea to choose a consistent format and standardize your packing slip across all shipments to create familiarity with your customers and run operations smoothly.
Understanding other documents in packing
Shipping orders involves using multiple documents other than the packing slip. Given the similarities between them, you can get confused. Let's understand these other documents.
Packing slip vs invoice
An invoice is sent to the individual who placed the order and will settle the bill. When invoicing companies, this may be the procurement manager or sometimes an accountant. Similar to a packing slip, an invoice will also contain the list of items in the order with each item's price, name and address of the person who will pay, and a unique invoice number. Additionally, an invoice will also contain any payment terms agreed upon between the supplier and customer. The invoice may also show any advance payment and mode of payment. For tax identification, the invoice will also have VAT or GST numbers.
What is a packing list?
A packing list is simply an expanded list of all items that need to be sent in an order. When kitting and bundling packages, a packing list helps indicate which items to include in the shipment. Unlike a packing slip, this is an internal document.
Bill of lading vs packing slip
A bill of lading is a legal document that states the transfer of ownership from a seller to a buyer. Usually, a bill of lading is created and handled by the shipment carrier. A bill of lading is signed for verification at two points—once by the carrier on package pickup and a second time by the buyer on receiving the package. If any items are missing or the package was mishandled, the buyer can refuse to accept the shipment. In enterprise shipments of large quantities, the bill of lading serves as an extra layer of protection to ensure that all goods were transferred correctly from the supplier to the customer. It's used in high-value items to prevent asset theft or loss.
Delivery note vs packing list
The delivery note is a list of all items that were delivered and serves as a record. Unlike a packing list, a delivery note may not contain the detailed list, pricing, and other information. Companies may or may not choose to print and send this to the buyer.
Note: The major difference between a packing slip and other documents is that there may be multiple packing slips per order but there's only one invoice/delivery note.
How to create a packing slip in ERPNext
Now that you've understood what a packing slip is and why it's used, let's see how to create one in ERPNext.
Go to the Packing Slip list and click on New
Select a Delivery Note against which Packing List is to be created. Note that the Delivery Note is not submitted (final) at this stage.
Enter the From and To package numbers you're sending in this shipment.
To fetch the items and quantities in the table, click on 'Get Items'.
From here you can print and use the Packing Slip. It can be customized to your liking or branding using Print Formats in ERPNext.
Note that if you've entered the weight details in the item, the gross weight of the whole shipment and the net weight of the current shipment will be calculated automatically.
In the above example, 16 packages of cotton will be sent over 4 shipments. So, for the first shipment, the package numbers are 1 to 4 and the quantity is 4.
Delivery Note
Since we're on the topic of shipment and deliveries, let's also glance at what a Delivery Note looks like.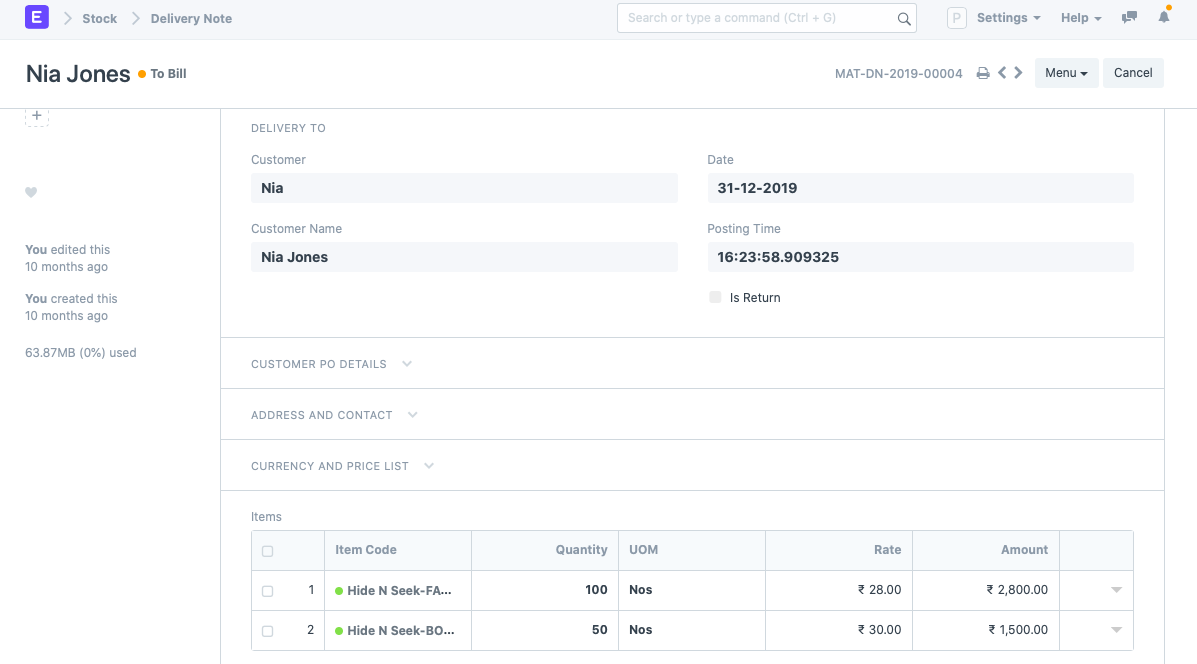 A Delivery Note contains details about the customer, address, item SKUs, quantity, price, total cost, discounts, etc. When all items from an order have reached a customer, the delivery is stored as a permanent record that affects the stock ledger.
Conclusion
Let's wrap this article. We covered everything about packing slips and other related documents and saw the benefits of packing slips. Hope you understood its importance and always verify your shipments regardless of which side you're on.
---