ERPNext Version 13 beta 11 and Frappe Framework version 13 beta 10 released.
A highlight of what's new in ERPNext v13 beta 11 and Frappe Framework v13 beta 10
---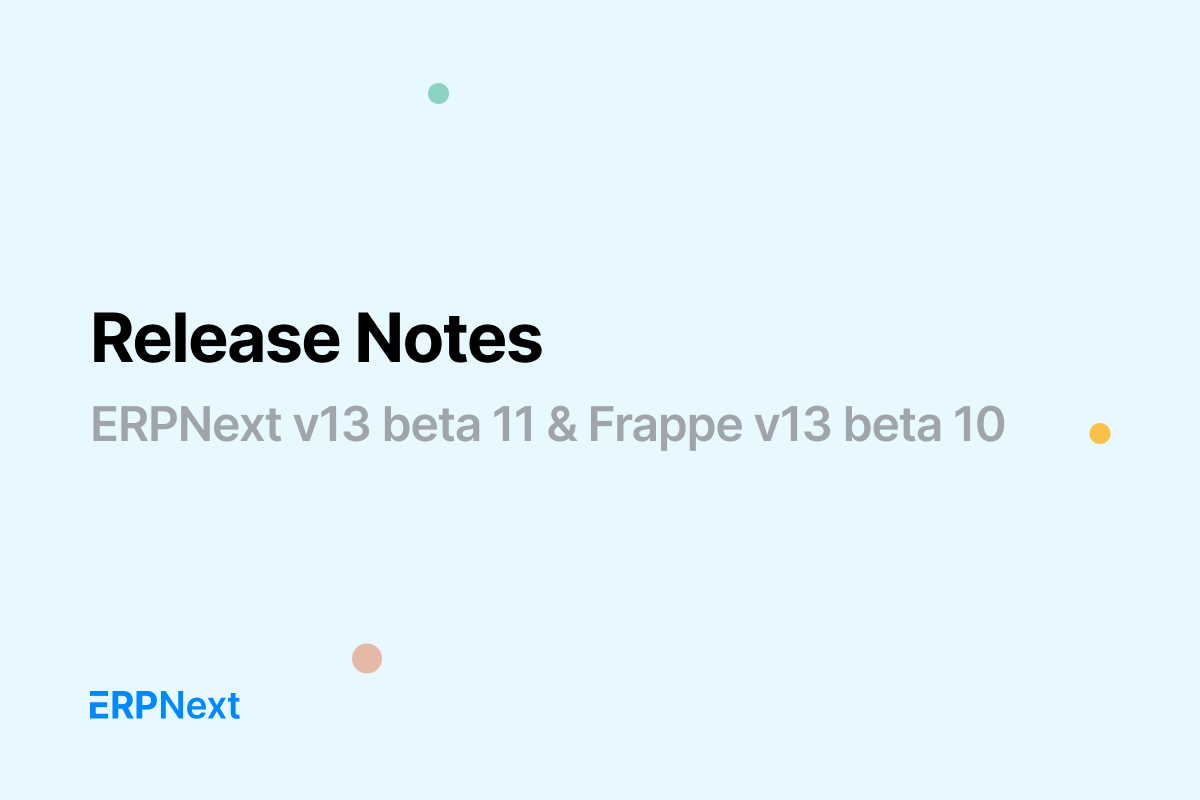 ERPNext version 13 beta 11 and Frappe Framework version 13 beta 10 were released last week. Let's go over the features released.
ERPNext Version 13.0.0 Beta 11
Provision to disable serial no and batch selector
When delivering items with a Delivery Note, if you want to input the serial and batch number manually based on different criteria, now you can disable and enter it later.
Multi currency in landed cost voucher
This is useful in situations where the additional charges on a purchase are paid in currency other than company currency. For example, in import/export, if the shipping and other charges are in a different currency, they can now be recorded accurately in the landed cost voucher.
Putaway
Putaway is a common warehouse management strategy where large numbers are involved. Inventory comes in, you either hold it in a temporary location and put it away to permanent storage or directly putaway. The upcoming v13 beta will have 'Putaway Rule' using which you can create putaways against Stock Entries and Purchase Receipts. By setting a target warehouse, priority, and capacity, you can set rules to putaway stock by simply ticking a box in transactions. This comes with a report called 'Warehouse Capacity Summary' which shows stock capacities of warehouses.
Item valuation for internal stock transfers
When transferring items between warehouses internally, the sales price was considered, now the item valuation price is used. Income and sales are also not booked in the accounting ledger in such transactions.
Batch wise item pricing
You can now set a different price in Price List for different batches of items. The new prices will show in sales transactions.
Patient History Enhancements
In healthcare, there are multiple enhancements to Patient History like multi-select in reports, links for individual documents, and the inclusion of standard and custom doctypes in Patient Medical records.
Compute Year to Date for Salary Slip components
In Salary Slips, you can now see the total salary outgo per employee from the start of the payroll period to the current date.
Configurable accounting dimension filters and validations
Accounting dimensions are good, they allow you to narrow down your accounting data and see it for specific areas. But you know what'll make them great? Even more control. With the new configuration options, you'll be able to select which accounts the dimension will be applied to. Further, you can also choose a primary dimension like a cost center and allow or restrict that to the current accounting dimension.
Do Not Bill Patient Encounters for Inpatients
Some healthcare facilities do not bill Inpatients for Patient Encounters separately. Made this configurable via Healthcare Settings:
So now, when doing Get Items from > Healthcare Services in Sales Invoice, the system will not fetch patient encounters for Inpatients if the "Do Not Bill Patient Encounters for Inpatients" checkbox is enabled.
Value Based and Numeric Quality Inspection
Numeric Quality Checks are the ones that require number-based readings and acceptance criteria. For example, checking if a reading is in a certain range.
Value based quality checks include things like checking if the color is Blue or not, size is large, etc.
Frappe Version 13.0.0 Beta 10
Option to hide child records for a nested DocType via User Permissions
Now you can hide child doctypes even if permissions are granted to the parent doctypes. For example, if a user access to Country warehouse but you want to hide a specific state, you can do that with User Permissions.
Added option to grant only Select access to document
Now, in a select field, user will be able to select the options but will not be able to open and read them. For example, a user can select an employee in a form but will not be able to read the data in the employee's user profile.
Enabled image rendering from links in Print View
When you add attachments to doctypes, before you'd see the URL in the print view, now you'll see the image.
These were some of the highlights in the new ERPNext v13 beta release, for a complete list of features, the whole list of fixes, and PR links, check out the discuss post.
---