ERPNext Version 13 beta 6 and Frappe Framework version 13 beta 9 released!
A highlight of what's new in ERPNext v13 beta 6 and Frappe Framework v13 beta 9
---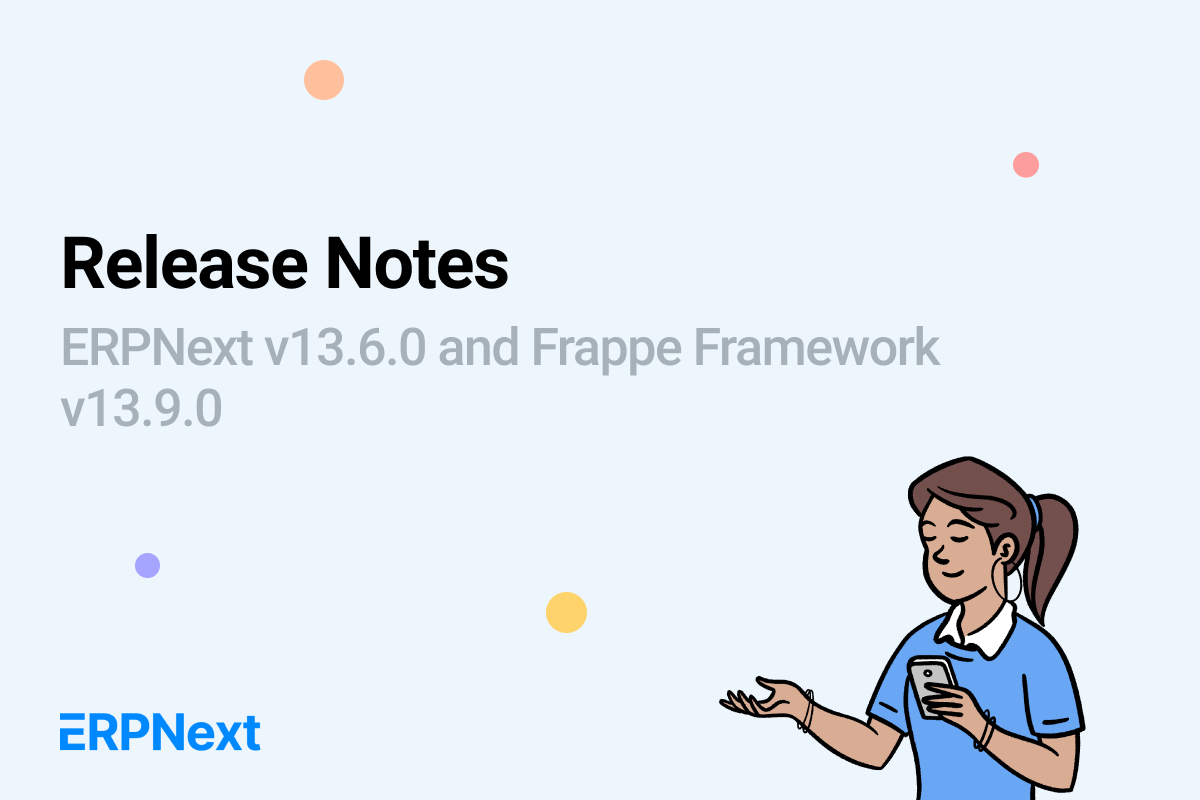 ERPNext version 13 beta 6 and Frappe Framework version 13 beta 9 were released last week. Let's go over the features released this month.
ERPNext version 13 beta 6
E-Invoicing for India
The long-awaited localization for India, GST E-invoicing was finally rolled out with the v13 beta 6. E-Invoicing is mandatory from October for certain companies, where every B2B invoice will have unique identification numbers called IRNs. Starting January 1, 2021, all companies with turnover over ₹100cr in India need to comply with e-Invoicing as per government regulations. This new feature will also help automate GSTR-1 filings since the entries will be submitted on every transaction
Multi currency payroll
Previously you could only process payroll for your employees based on your company's currency. With the changing situations, companies need more flexibility as hiring remotely from other countries is becoming more common. The new multi-currency payroll feature allows choosing a different currency for processing employee payroll if you choose to go more global with your hires.
Immutable ledger is now optional
Immutable ledger had everyone sweating and many of you didn't like it, it prevented creating backdated entries. So now we've made it optional. With an option in Stock Settings "Role Allowed to Create/Edit Back-Dated Stock Transactions", you can allow backdated entries to specific roles in your account which will restrict other roles. Backdated entries will be reposted via background jobs.
Call logging via Twilio
Introduced telephony feature using Twilio which will allow setting up greeting messages etc along with other configurations and also log the calls in the system.
A new Shipment doctype
A new Shipment Doctype will keep track of real-world shipments created either independently or against Delivery Notes. It's a work in progress and more features will be added on the way.
Leave policy assignment
Now leaves can be assigned based on new leave policies created. This makes assigning leaves to employees easier and also automates some aspects.
UAE VAT 201 Report
UAE VAT 201 form is a standard form to be filled by UAE VAT payers. This feature in ERPNext allows you to generate invoices compliant with the UAE VAT system. It also has supporting fields that are required and you can print the report with all the data.
Quality Inspection on Job Card
Now you can perform a quality inspection after each operation is done via a Job card. This allows better control of quality at each stage in the manufacturing process.
Inpatient Medication Orders Script Report
This new report shows Patient, Healthcare Service Unit (where the patient is admitted), Drug Code and Name, Dosage and Dosage Form, Date and Time, Order Completion Status, Healthcare Practitioner, Inpatient Medication Entry: if the order is completed, then the inpatient medication entry against the order is shown, and Inpatient Record.
Formula based Quality Inspection
For chemical tests, there are certain levels/compositions that need to be met in order to say that a batch is of good quality. With Formula based Quality Inspection, you can define formulas with multiple parts to handle such situations and control the quality of chemicals or metals.
Frappe Version 13 beta 9
Partial Backups & Restores
Now partial backups are possible where you can choose which tables to keep. This makes creating new benches and sites for testing easier. This could also be useful in other areas. Say you want to restore a site but don't want the extra data like deleted files/logs etc. you can choose to restore data that is important to you and skip the other.
Non-negative check for Int, Float, and Currency fields
A new checkbox in customize form for each doctype allows you to disallow negative values for fields. So no more accidental negative currency values or units.
Allow HTML in email templates
Before you could only set up email templates using the built-in text editor now you can customize and personalize the templates directly using HTML.
Conditional Events in Event Streaming
This allows filtering the documents in a doctype before sending them to the consumer. For example, you can choose to show only Notes that are public in your account.
Validate SQL file before restoring a site
Before, if you deleted a site without valid SQL, there was no option to restore the site and it would've been gone permanently. Now, the SQL is validated and you'll see an error message for invalid SQL. This is a safety feature that prevents permanent loss of site data (due to invalid SQL).
Show absolute value in print format
Similar to nonnegative checks for int, float, and currency, you'll be shown positive instead of negative numbers in print formats too.
Add links and actions to customize form and cleanup code
This is about the custom doctypes seen in the dashboard of forms and also the buttons on the top right. Now, you can add options and buttons in the dashboard of all forms and don't need developer mode anymore hence the JSON also doesn't change.
These were some of the highlights in the new ERPNext v13 beta release, for a complete list of features, the whole list of fixes, and PR links, check out the discuss post.
---