What is a sales order and how to maximize your chances of locking one?
Sales orders are often the final step before calling a lead a customer. Let's see about it and also how to tackle some last-minute bumps.
---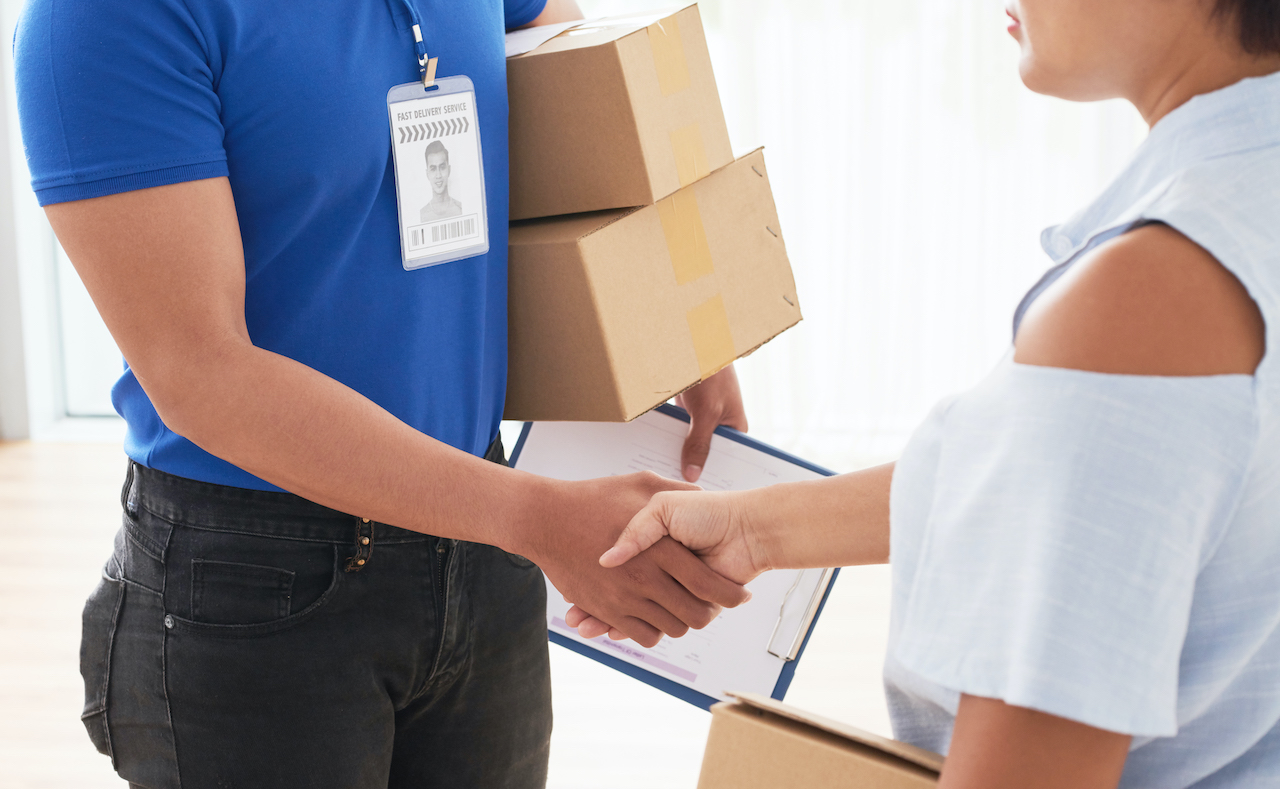 A sales order is a confirmation that your lead is now a customer. Locking one is pretty much a sure win if you followed the right steps in qualification. But sometimes, deals slip off due to unforeseen reasons at the last moment.
What is a sales order?
A sales order is a document sent by a supplier to a customer to confirm the order which makes a lead a customer. It's generated on receiving a purchase order from your potential customer/existing customer and contains details like due date for delivery, quantity and type of items, shipping address, payment terms, terms and conditions, and other information relevant to the transaction.
Is a sales order important? When?
Given the cycle of documents from quotation to sales order to delivery note to sales invoices and so on, you may think 'why create a sales order when you can create a sales invoice anyway?'. Right? Not really. In most inventory management and ERP systems, creating a sales order affects the stock ledger in a way that items from existing inventory get reserved to fulfill an order. As you can imagine, not creating sales orders will lead to unnecessary confusions and incorrect statements. However, it's interesting to note that skipping sales orders doesn't have too much effect if you're selling software products as there's no limited inventory or restocking involved in that.
Sales order process flowchart
Now let's look at the flow of events that lead up to a sales order with the help of a flowchart. It starts with lead qualification, demos, and quotations. When both parties agree, you send a sales order to respond to the client's purchase order. Actions after the sales order are delivering the product/goods and payment.
Sales order workflow
On the path to securing a sales order from a client, knowing the different roles and decision makers is useful. For physical goods, usually the procurement manager is responsible for sourcing items. In manufacturing companies, it can be the manufacturing manager. Similarly, for software it can be the IT/System manager. For more complex requirements like ERP systems, VPs and CxOs also get involved in the sales process.
So generally, mid management i.e., managers scout for the items to buy and senior roles may or may not be involved for final approval. Always ask your potential customers as to who is the decision maker.
Processing sales orders
The actions taken after receiving a sales order are a part of processing the sales order. The action taken depends on the type of goods you sell and how you get them in stock. Once the customer's sales order is in your system, there needs to be enough stock to fulfill the order. This depends on whether you stock items or practice JIT inventory where you procure/produce only after receiving orders (more common in items sold with less frequency).
Internally, material requisitions may be made to either procure the item from your supplier or produce them in your manufacturing shop floor. The order can also be fulfilled if you have stock in your warehouses. So after receiving the sales order and having the stock ready you send the items to your customer along with an invoice and log a delivery note to confirm that the items have been delivered.
Sales order form template example
Here's an example of a sales order made in ERPNext that is ready for printing: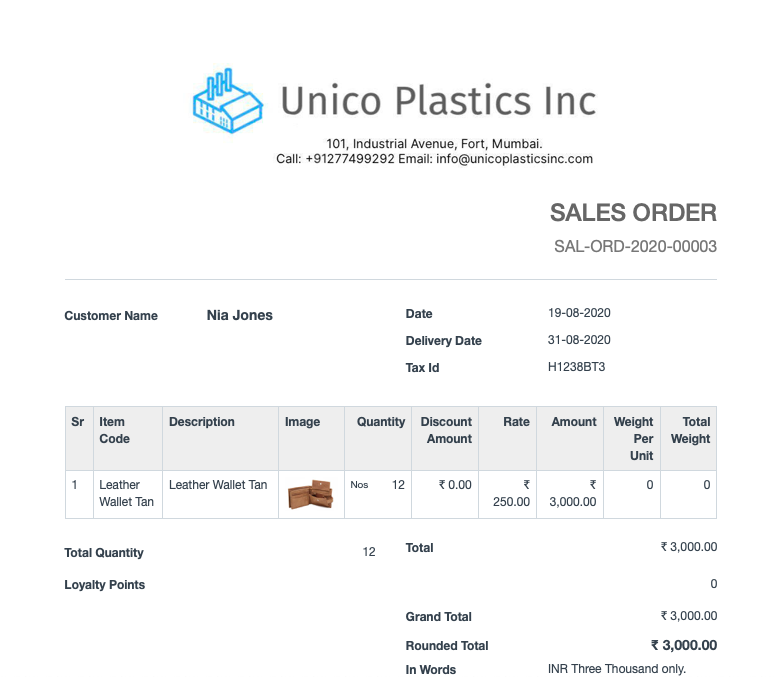 Multi year contracts
Contract means entering into terms agreed by both parties—the supplier and buyer during a sales order confirmation. This is done at the quotation stage but is also a part of the sales order. Multi year contracts work both ways where they protect customers from price inflation and the supplier from customer churn.
The way it works is the customer signs the agreement and the supplier counter signs. Now, the supplier is contractually obligated to serve customers and any disputes or misunderstandings can be solved as per the contract terms.
FAQs on sales orders
Now that you know a little bit about sales orders, you may have some questions floating around. Let's try to answer some of them.
1. Where is a sales order used?
A sales order is created by a supplier in response to a purchase order from a customer. It's created using an inventory management system or ERP system.
2. Who creates sales orders?
On receiving a purchase order from the customer, a member of the sales team logs a sales order. Sales orders can also be automatically created in case of shopping carts and B2C scenarios where extra confirmation is usually not required.
3. Sales order vs sales invoice
Two documents having almost the same information—sales order and sales invoice may seem redundant but they're necessary to maintain clean records, especially when physical stock is involved. Logging a sales order reserves stock from your inventory to be sent against a sales order, i.e., affects the stock ledger. A sales invoice on the other hand, affects the accounting ledger when the payment is due and when payment is made. Skipping either of these steps leads to confusion and inaccurate data in the system.
4. Sales order vs purchase order
When a company needs to procure items, it sends out a purchase order after finding a suitable supplier. The supplier responds to the customer's purchase order with a sales order. But the supplier themself can create a purchase order to procure items before selling it to their customers. Slightly confusing but remember, purchase orders are made by customers for procurement and sales orders are made by suppliers to log the sale. The dynamic may change depending on who is at the purchasing or selling end.
How to maximize your chances of logging sales orders
You're religiously doing lead management and have people in place with dedicated roles in your sales team. Ideally, the following should happen and everybody goes home happy.
Leads get interested, ask for quotations (RFP/RFQ)
You send quotations and they become opportunities
They send purchase orders
Salespeople respond with sales orders
Salespeople are on their way to brag how much sales they did
Well, things don't happen so straightforwardly in practice. Often, there are hiccups when you send the quotation and sometimes even before that. Qualifying your leads definitely minimizes chances of such things happening but they do happen. Let's see what are the challenges that stop you from logging a sales order and how to overcome them.
A lot of objections show up at different stages in the sales cycle from lead to paying customers. Here, let's talk about the last moment problems that you don't see coming. Or can you? Most of them are due to miscommunicated expectations.
1. Customer changed their mind
After understanding customer needs and establishing your product/service as a solution, customers can sometimes change their minds at the last moment. Reasons for this range from them changing priorities to finding a better/cheaper solution. There's little you can do in such situations other than take a few moments to accept the lost time and approaching the next prospect. In some cases, you can offer a better deal or extras to keep the customer with you but this varies based on the situation and customer. This is also a nuanced decision since a smaller company will actually hurt itself by offering deep discounts which may be a regular thing for a bigger company with enough deals to still turn deep discounts into break even or profits.
2. Disagreement in service method
In B2B transactions, where some kind of services are involved, there can be disagreement in the service method at the last moment. Services here could mean shipping/logistics services for a client or software consultation/implementation services. In both situations, if the way of delivery and billing methods are not defined with 100% clarity, it leads to complications later. At Frappe, we faced such a situation where the team was about to finalize a decently sized client for ERPNext. But at the last moment when everything else was looking good, the client expected a completely different billing situation from what was communicated earlier. This led to a lot of back and forth communication till the team decided to not pursue this since it wasn't in our best interest at the time. The takeaway here is that you should always include all service and billing details with full clarity in your RFQ/terms and conditions/contract so there's no room for unwanted changes, later which keeps the sales order from slipping away.
3. Vetting process is too long
Thorough vetting of products and services is common in B2B where it can take weeks if not months to vet something before you can make a sale. But sometimes the customer vets for a few weeks and continues to do so even after placing an order with you. This is common in service businesses where the customer places a sales order then later talks about how they wanted a 100 more things that weren't discussed in the quotation. Unless they're a massive business, you're better off dropping such customers since their needs weren't clear in the first place and the whole arrangement could turn into a headache.
Strictly locking in needs and expectations in the quotation phase itself avoids such a situation. That saying you should proofread the RFPs/RFQs thoroughly, maybe even with 2-3 different people for big projects.
4. Custom requirements keep popping up
Now you may have heard of customizations, custom plugins, and all these things in software projects and for the most part, they happen in such transactions. But additional requirements can also pop their head in all kinds of service projects, say the client wants extra packaging for their shipment which would cost you a lot of time or let's say a client wants 7-8 more custom parts in their engineer to order which is again way to time consuming for you to the extent that it makes more sense to work on other projects instead. This too has happened at Frappe in an ERP transaction and we've had to walk away from some projects to preserve our interests.
As you may have noticed, setting clear expectations and more importantly setting them on paper plays a big role in maximizing your chances of locking a sales order and prevents last minute slips. Last minute hiccups happen but if you tackle the above mentioned situations with active communication, you may just have a better chance of seeing through that sales order.
Creating and managing sales order with software (ERPNext)
We've understood the concepts around sales orders. Now, let's see how an ERP system like ERPNext can make handling sales orders easy.
Sales order format/What does a sales order contain?
A sales order can get comprehensive with information on multiple things. But at the very least, it should have the following for a smooth transaction:
Supplier name and contact
Customer name and contact
Customer shipping and billing address
List of items being sold and quantities
Item unit of measure and weight (optional)
Delivery date of the order
Price of the items
Taxes and additional charges
Terms and conditions of the sale
Here's an example: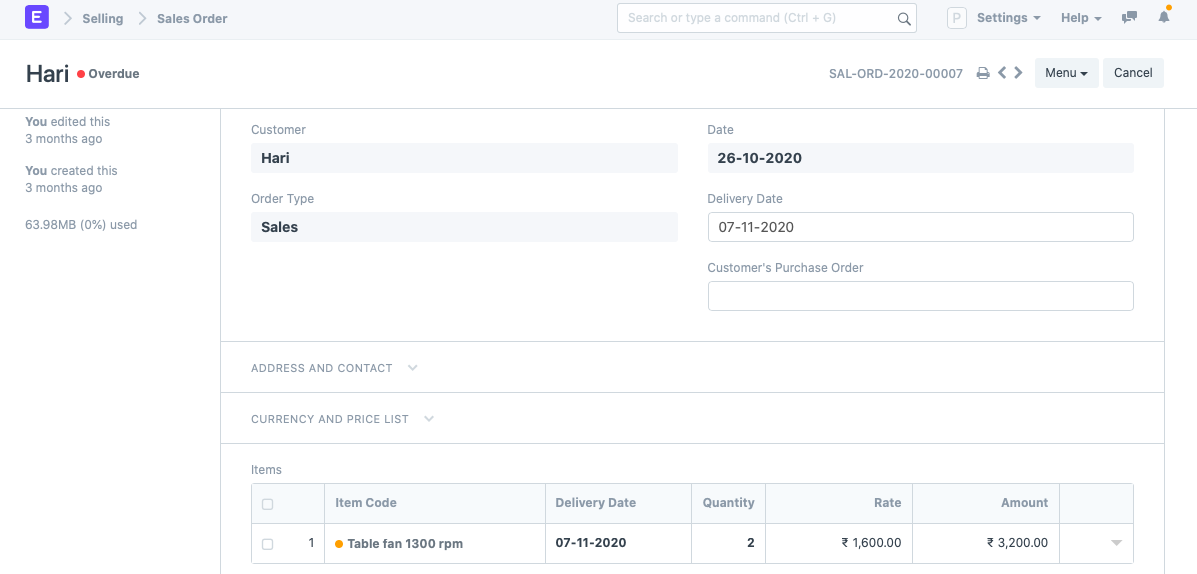 ERP sales order process
Speaking system-wise, in transactions, a sales order falls in between other transactions. Let's only consider a selling cycle here. The first document would be a quotation made by your sales employees and sent to the customer. They'll get a response in the form of a purchase order against which you'll send a sales order. Further, if there are physical products involved, a delivery note is created to confirm the delivery of items and movement of stock. Finally, a sales invoice and payment entry are recorded to bill and record payment.
Here's a flow diagram from the ERPNext documentation that outlines this process in terms of document flow in the system: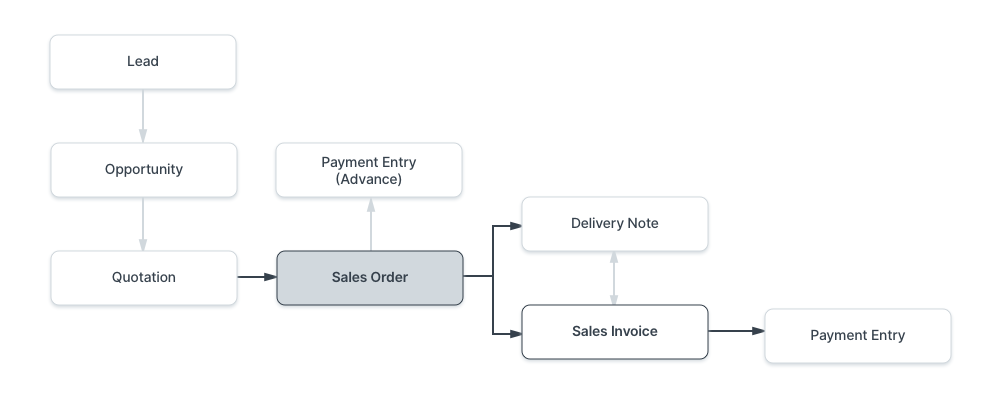 How does a sales order affect your ledgers?
On creating and submitting a sales order, a certain number of items from your warehouse get 'reserved' for fulfilling the order. Note that they haven't left the warehouse yet but also won't be available for any other transactions.
For example, have an inventory of 12 wooden chairs and you accept a sales order which needs 10 chairs. Then, if you get another order for 6 chairs, you'll see there are insufficient goods to fulfill the second order of 10 chairs. And one last thing, a sales order has no effect on the accounting ledger. In the following screenshot, you can see that 40 units are reserved for a sales order and 90 units are available in inventory:

Different ways to create sales orders
In ERPNext, you can create a sales order directly, from a submitted quotation, or even directly against a customer. Here's a screen showing sales order from a quotation.

You can also get a sales order via shopping cart if you choose to create a website and list your items online.
Sales order reports
The different reports related to sales orders show various data.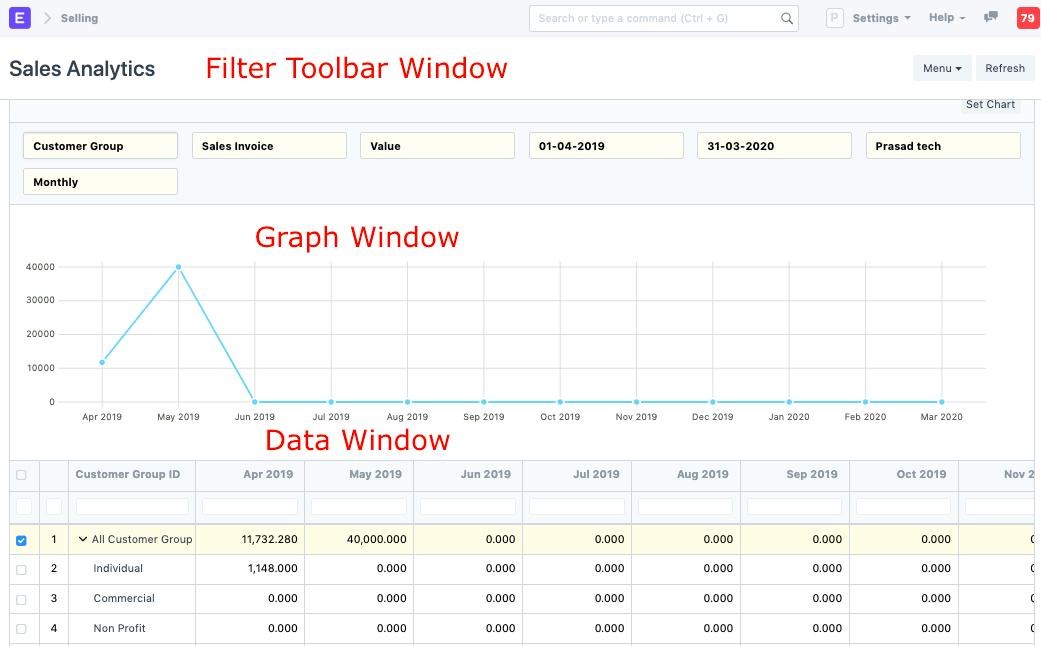 Sales order letter format
You can also personalize your sales orders with your company's letterhead format. This will give a more professional look to your sales orders.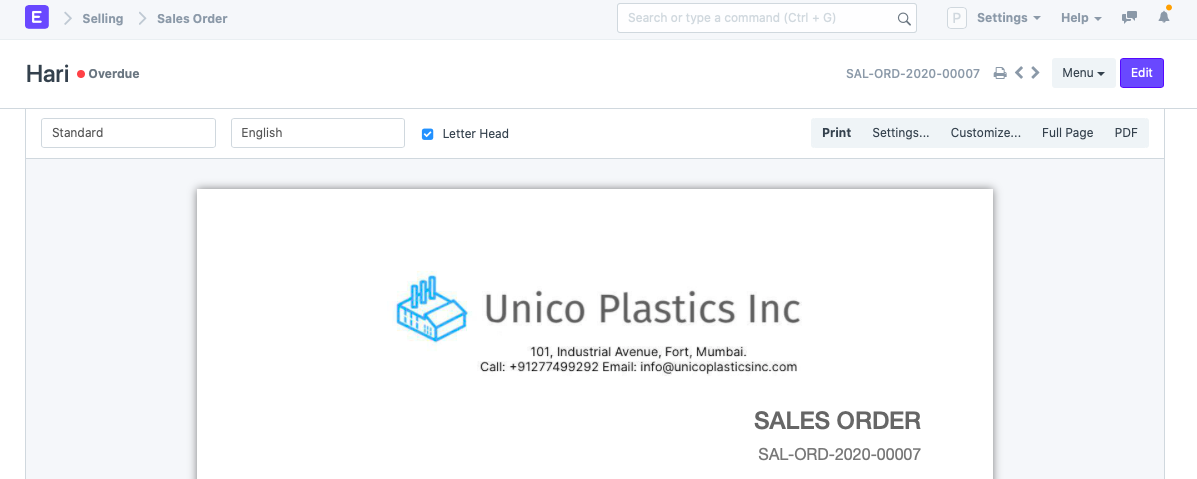 Tracking sales orders status
In the list of sales orders, you can see the status of each sales order. The different statuses are Draft, On Hold, To Deliver and Bill, To Bill, To Deliver, Completed, Cancelled, or Closed. Within a sales order, you'll also be able to see the Amount Billed currently and the Delivered percentage of the order.

Commission for sales team and sales partner
Finally, this is what salespeople look forward to with g̶r̶e̶e̶d̶ hope in their eyes. In sales orders, you can add details about who closed the sale and the commission percentage to allocate them.

Conclusion
Now you know plenty about sales orders, flows, contracts and so on. Last minute obstructions pop up sometimes, hope that our experience in some of these situations will help you and make the right decision. Closing more sales orders is great but not each and every one.
---